Your Guide to Doughnuts in Charlotte
Whether a purist for a glazed doughnut or you prefer to go crazy with wild flavors, sweet choices abound.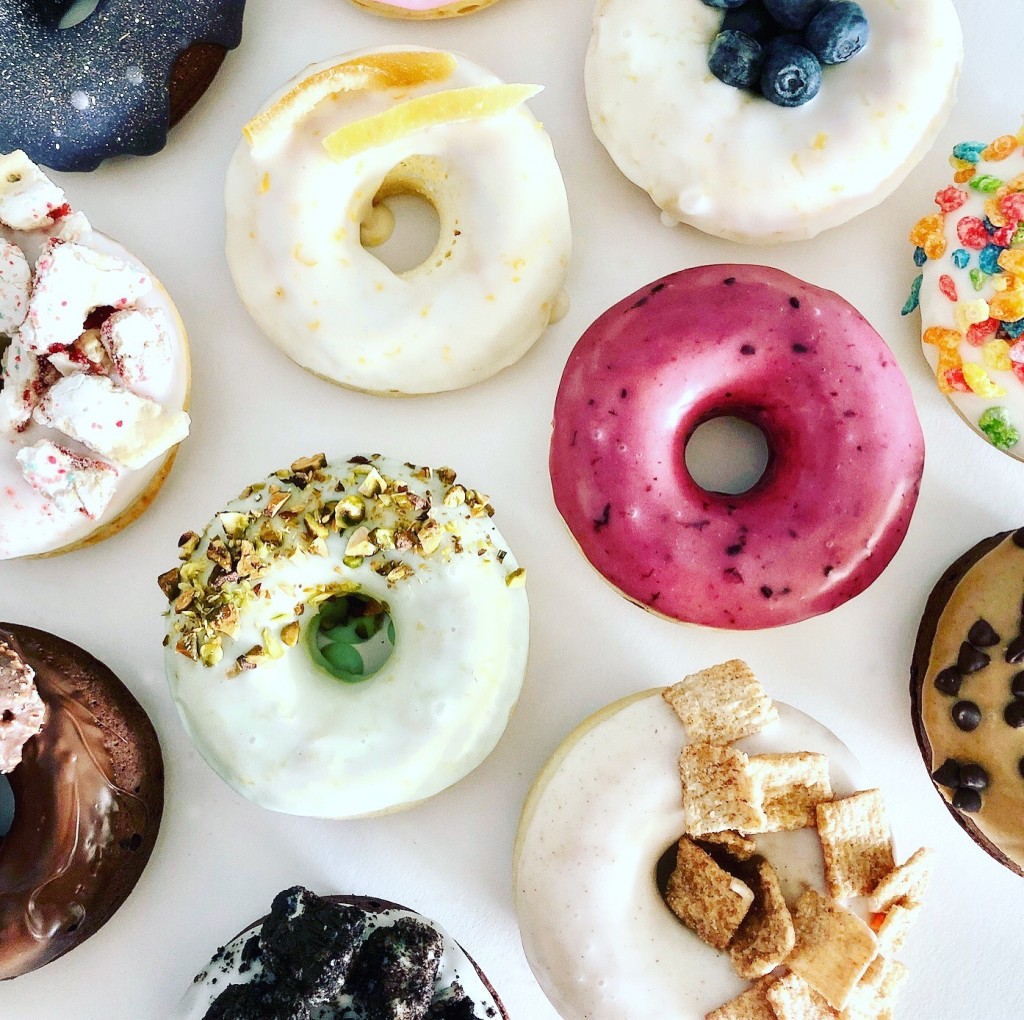 Whether you are a diehard cake-doughnut-or-nothing person or a believer that yeast doughnuts take the cake, we present a round-up of doughnut shops in the Charlotte area to satisfy your sweet tooth.
Hot Now! 'Nuff said. Everybody gets a free doughnut of their choice Friday, June 7 for National Doughnut Day. Located at 119 N. Sharon Amity Road; and 9301 E. Independence Blvd., Matthews.
---
Swirl, a bakery that recently opened in Oakhurst, debuts its doughnuts on National Doughnut Day with BOGO promotion that includes both regular and vegan doughnuts. Ongoing, Swirl will have its doughnuts in a rotation of flavors available each Saturday, including Vanilla with Pink Icing, Chocolate with Oreos, Vanilla with Lemon Glaze and Blueberries, Chocolate with Peanut Butter, and Vanilla with Pistachio Glaze. Located at 1640 Oakhurst Commons Drive (just off Monroe Road).
---
Owned by mom of three Courtney Buckley, Your Mom's Donuts makes square sticky, yeast doughnuts iced with delicious flavors, including salted caramel, strawberry, lemon honey are baked fresh every morning. Check the website for special flavors each week or follow them on Instagram. This week's special flavors are: Raspberry Lemon Curd Filled, London Fog (Earl Grey Tea Latte), Strawberry Buttermilk with a Strawberry Thyme Jam Swirl.
For National Doughnut Day, get a dozen for $20 tax included. Pre-orders are encouraged via the website. Both locations open early and close once sold out. Locations at Park Road Shopping Center, 4205 Park Road; and 11025 Monroe Road, Matthews.
---
Create your own designer doughnut at Duck Donuts. Each vanilla cake donut is made to order. It can be glazed, drizzled and topped as you wish with a menu of choices, or choose from the featured doughnuts that are pretty spectacular combos. If you like bacon, try the maple icing with chopped bacon. Get a free classic doughnut on National Doughnut Day. Located at Kenilworth Commons in Dilworth. Located at 1710 Kenilworth Ave., Suite 220.
---
Reigning Doughnuts is a walk-up window in NoDa that is open mornings and evenings. The cake doughnuts are available in vanilla icing, chocolate icing, cinnamon sugar, powdered sugar, honey glaze, lemon icing with poppy seeds, and a rotating daily doughnut in flavors like s'mores and cherry, or the more obscure Hot Sauce Icing with Crunchy Chicken Skins. Get a free doughnut of choice on National Doughnut Day. Located at 3120 N. Davidson St.
---
Newly opened in its brick-and-mortar location in South End at the Design Center, Pepperbox makes chef-driven doughnuts with a rotating menu of flavors. Follow them on Instagram to keep up. On National Doughnut Day, buy one, get one original glazed doughnut until noon. Located at 101 W. Worthing Ave., Suite 101.
---
Made from scratch one by one, Sugar's yeast- and cake-based doughnuts melt in your mouth. From more traditional flavors like chocolate and strawberry glazed to unique flavors like Key Lime Creme and Mango Chili. Opens early and closes when sold out. Located at 11914 Elm Lane in south Charlotte.
---
Customize your hand-cut doughnut at Sweet Dough. Dip, sprinkle and glaze your way choosing from a multitude of toppings. Get a free glazed doughnut on National Doughnut Day, while supplies last. The custom doughnut shop has two locations, one in Ballantyne and another in Fort Mill, South Carolina. Located at 11212 Providence Road West; and 400 N. Dobys Bridge Road, Fort Mill, S.C.
---
For those who grew up on Dunkin', get a free classic doughnut of choice with with a beverage purchase on June 7. Various locations throughout town.
Michele Huggins is the editor of Charlotte Parent magazine, and is mom to two boys who LOVE doughnuts.