Yoga Classes for Kids in Charlotte
Where to find yoga classes in Charlotte and the surrounding area for kids.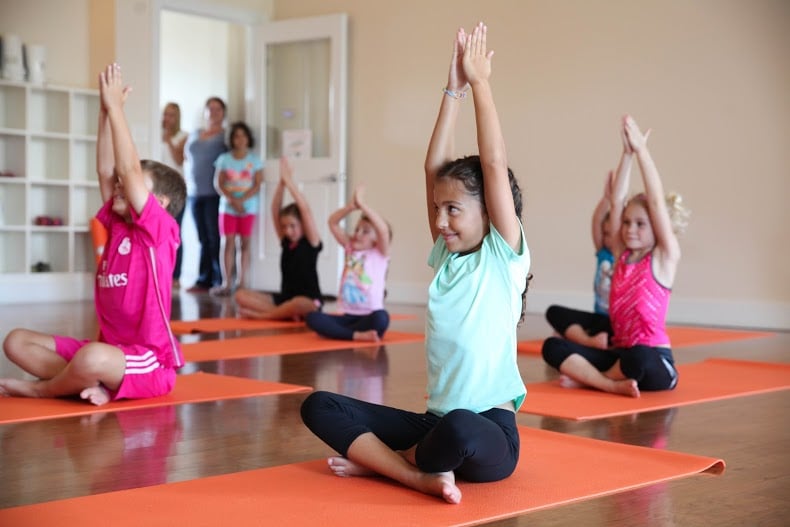 Yoga isn't just for adults anymore. Local studios are expanding the benefits of group yoga classes to youngsters. The studios below offer kid-only classes to children as young as 6, in addition to Mommy and Me classes. Yoga helps to strengthen and stretch bodies and teach body awareness, as well as mental strengthening and stretching. Learn more about how yoga benefits kids, then let your children try a class at one of these area studios.
---
Mommy and their "mini-me's" (ages newborn-12 months) can come for Mommy and Mini yoga classes. Kids ages 6-12 can come for Kids Yoga to stretch their minds and bodies, practicing breathing techniques and meditation. Kids classes are offered at 5:30 p.m. Wednesday and Fridays at Yoga One Central in Studio C. 1318 Central Ave., D2. 704-332-9911. y1now.com.
---
It's truly a family affair at Charlotte Family Yoga. Kids yoga classes (ages 4-8) are Mondays from 5:45-6:45 p.m. and the first and third Saturday of the month from 9:45-10:45 p.m. Enroll your daughter in a yoga girls club session for ages 9-12 or girls club junior for ages 6-8. Toddlers (2-3) and their parents can join the fun with special family days as well. Check the online schedule for the most up to date information. Classes are taught with the Karma Kids philosophy utilizing yoga poses, games, activities, music and stories, children grow strength, flexibility, coordination and body awareness. Child care is available for infants on up for moms and dads who want to come find their "ohm." 8230 Poplar Tent Rd #104, Concord, NC 28027. 704-992-1145. charlottefamilyyoga.com
---
​Y2 opened it's renovated space at Cotswold Village Shops in 2016. Hot yoga is the name of the game at most Y2 classes, with an exception being the Y2 Kids class. Designed for kids 6-11, the classes are playful and incorporate fundamental yoga poses and a touch of collaboration and cooperation. Y2 hosts private lessons, birthday parties and outings and has a childwatch program for moms and dads who need to reset with little ones in tow. 274 S. Sharon Amity Road, 704-456-9642. y2yoga.com.
---
Located in Huntersville, iShine Yoga & Wellness offers workshops and on-site childcare for ages six months and up (must be booked 12 hours in advance). Babies and their parents can connect, laugh and explore through baby and me yoga (ages 0-2) which explores slow-flow, core strength and stretch, breathing awareness and infant massage. For a one time fee you can become part of the co-op and take advantage of classes and discounts. 16507 Northcross Dr suite c, Huntersville, NC 28078. 704-274-9808.
Diane Biffl of Om Yoga offers a great reason for children to give yoga a try. "Kids yoga is beneficial for children because it teaches self-acceptance, calming techniques, focus, non-competitiveness, and positive mental health." What child or parent couldn't use more of that? Grab your little ones ages 5-9 for Kids Yoga classes every Thursday from 4:30-5:30 p.m. at their studio in Fort Mill. Om Yoga also offers prenatal and postpartum classes Sundays from 1:45-3 p.m. and every Thursday from 9:30-10:30 a.m. 936 Market St suite 203, Fort Mill, SC 29708. 803-396-0493.
Find your inner warrior, be a tree or get down (ward dog), at these peaceful place to reconnect with your kids and yourself. Happy om!