Why This Local Children's Choir Uses Yoga in Rehearsals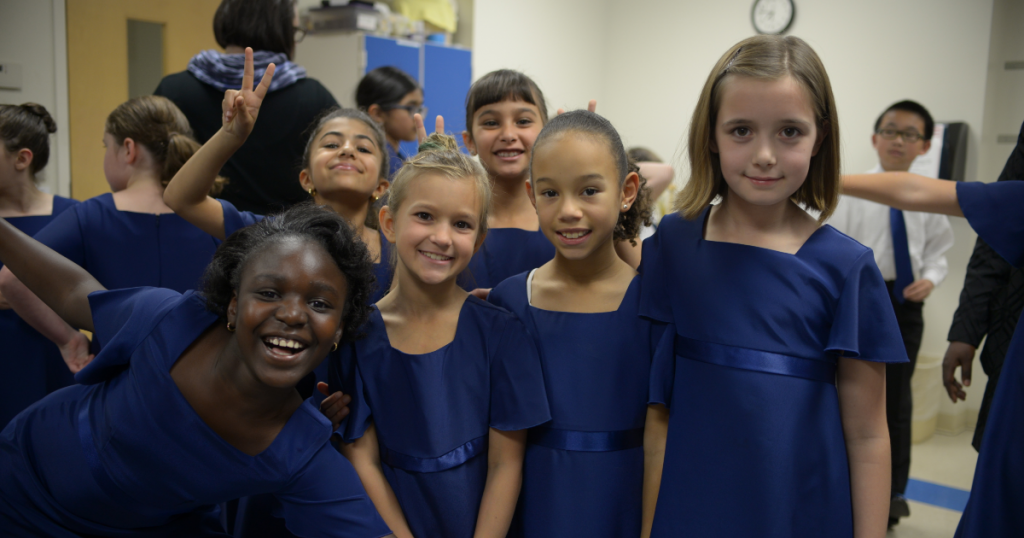 A new choir director is shaking things up—or, rather, slowing things down—at the Charlotte Children's Choir.
First-year Arts+ Artistic Director Keegan Brittain is leading the Charlotte Children's Choir with a twist.
While most choir directors recognize the body merely as the singer's instrument, Brittain sees things differently. An avid yoga practitioner, she doubles as a yoga teacher at the Matthews YMCA in addition to her duties at Arts+.
Brittain believes a "comprehensive understanding of the body is essential to healthy and comfortable singing."
That's why, since her first day on the job, Brittain has been incorporating the fundamentals of slow, deep breathing and mindfulness exercises into the Charlotte Children's Choir rehearsals. Yes—yoga components.
Brittain began the practice of incorporating yoga with choral singing three years ago as she was finishing her undergraduate degree at Wingate University and student-teaching choirs in Union County.
Today, she incorporates these Choral Yoga techniques in the Charlotte Children's Choir at Arts+. Founded in 1986 and becoming part of Arts+ in 2015, this diverse choir is made up of singers aged 8-18 who meet weekly for rehearsals. The group also performs throughout the year at community events and with other choirs.
Composed of three choirs, a summer camp, and more, the Charlotte Children's Choir boasts collaborations with top-level local, national, and international professional music organizations, including the Charlotte Symphony Orchestra, Opera Carolina, Carolina Voices, American Boychoir, and Canadian Brass.
The groups have also toured nationally and abroad to landmark locations in Washington, D.C, and New York City, and internationally to Europe and beyond. The Charlotte Children's Choir also appeared on NPR's "From the Top" and has even performed at the White House.
With performances of this caliber, it can't hurt the singers to call upon yoga's deep breathing skills to calm their jitters and elevate poise and stage presence.
How Yoga Breathwork Affects the Students' Singing
Brittain says, by teaching singers the anatomy of their instrument (the body), the singers become more aware of it.
"Through this," she explains, "we see that singers can sing more efficiently for longer, with less damage on their physical body and the singing mechanism."
Yoga breathwork minimizes the tension on the instrument and thus gives singers a healthier, purer sound. Plus, Brittain says, building the muscles in the appropriate places makes singing easier by offering a larger range of breath support options.
Benefits of Breathwork for Children
In the fall of 2017, Brittain presented her work on the Choral Yoga technique at the North Carolina Music Educators Association Annual Conference. She's also presented it at the North Carolina American Choral Directors Association Annual Conference.
Although the full range of benefits of this breathwork is not known yet, there is certainly reason yoga is as popular as it is for wellness.
In addition to the physical benefits, the mindfulness elements of this style of directing allow singers to be more present in rehearsal and feel safe and involved in the process. These breaths bring more oxygen to the body, improving the function of organs and lowering the larynx—preparing the body for a healthy singing position.
Because this breathing style encourages focus, rehearsals are efficient, opening up time to explore "higher levels of musical thinking and performing," Brittain says.
Singing is skilled, meditative, unifying work, capable of teaching larger life lessons.
Through rehearsing and performing together, Brittain teaches the young musicians to work together, to experience their growing voices, improve their music-reading skills, and—through diverse membership and repertoire—expand their understandings of the world.
Have a young singer at home aged 8-18? The Charlotte Children's Choir at Arts+ has open placements to fill in January. Learn more about joining the Charlotte Children's Choir here.
---
At Arts+, we envision the transformative impact of arts education illuminating every corner of the Charlotte region. Our goal is to make outstanding arts education available to students of all ages, skill levels and socioeconomic backgrounds. From private lessons to summer camps to community outreach programs, we strive to help each student unlock their full potential through the power of arts education. See all the Arts+ spring programs in the Charlotte metro area.