Why Kids Act Out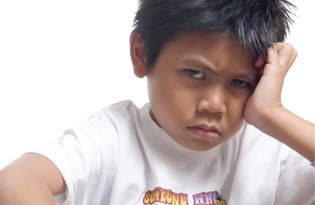 One of my favorite things about children between 6 and 10 years old is their desire to succeed and please. Young, school-age children often feel motivated to learn about their world, and they eagerly await positive recognition for their efforts. So, why do so many of them act out against their sweet natures?
When children act out, they're waving a red flag. It's up to the responsible and loving adults who surround them to help unveil and resolve the underlying problem. Though school-aged children act out in a variety of ways and circumstances, many behavioral problems manifest themselves in sibling, peer, parent or teacher relationships. Whether youth become involved in physical fights or verbal outbursts, disrespecting authority or avoidance of specific situations, the biggest key in identifying a stress-related problem is variance. If a child displays a new negative behavior, chances are there's a reason the bad habit started.
To get to the root of the problem, parents should appreciate the stressors of young, school-age children. Environmental triggers for bad behaviors may include: welcoming a new sibling, moving, or experiencing divorce or the death of a loved one. More subtle stressors at home or school, such as struggling with schoolwork or the child feeling like he or she doesn't "fit in" socially with peers, may elicit a range of behavioral or emotional responses and potentially affect the child's fragile self-esteem.
At this stage in life, children separate from their families to attend school. This new social environment and structured schedule lasts all day – and it's a big transition for them. Their job is to learn how to interact in these relationships and environment; and with newly-forming self-images, it's easy to see how children can feel threatened.
In connection with these life changes, some of my pediatric patients suffer from repeated nausea, abdominal pain, or headaches. Parents always should alert their healthcare provider of repetitious physical symptoms. Often, after a thorough evaluation, patterns of attention-seeking or school avoidance are revealed.
Once the source is identified, it's vital to replace the negative with positive. Here are four tips I frequently share with my patients' parents:
1. Talk. Discover what's going on by talking with your child, as well as other adults. If problems involve friends or school, discuss it with teachers or friends' parents to hear from all sides.
2. Teach resilience and stress-management skills. Snuggle up and share personal stories of overcoming trials and your best stress-smashing techniques.
3. Turn off technology, then tune in to your child. The No. 1 way a parent can help is by providing quality one-on-one time (quality, not quantity). Just 10 minutes of undivided, loving attention can create major breakthroughs in behavior problems.
4. Assign responsibilities and give choices, and then praise accomplishments. Simple tasks, like feeding family pets or participating in food drives, allow children to understand the impact they have on others. Also, let children control small decisions, such as selecting the menu for dinner one night a week. Responsibilities and choices, balanced with limits and consequences, feed a child's craving for stability and freedom.
Alison Efird is a Certified Family Nurse Practitioner at Pine Lake Family Physician. Reach her at 704-384-9920 or visit www.PineLakeFamilyPhysicians.com.