Whole Food Cooking with the Family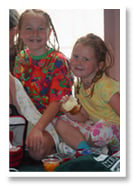 "I am not a cook," says Christi Coverston. As the mother of two growing boys, Coverston sometimes finds herself, like many moms, in a rut when it comes to preparing family meals, snacks and school lunches. But she recently found help in an unusual place — a new teaching kitchen at the Morrison Family YMCA in Ballantyne.
As part of the Y's commitment to inspiring healthy habits for adults and children, the branch opened the kitchen in the fall and offers such classes as Whole Foods 101, Healthy Lunch Box Options and Say So Long to Sugar. In partnership with Earth Fare supermarket, local chefs also provide cooking lessons for the not-so-culinary-inclined.
YMCA Culinary Coordinator Tracey Fox is amazed at the response so far to the new programs. "It's all about getting people back in the kitchen," says Fox. "These days, families aren't cooking — they're 'driving through.' They're looking for new food ideas that don't take a lot of time or money and are also healthy and taste good."
Fox says classes are aimed at educating everyday people on the importance of topics like buying locally, cooking with unprocessed food (also known as whole foods) and sharing new experiences with family members. The Y also offers monthly programs designed to get parents and kids in the kitchen together.
"We took a parent/child class about making healthy appetizers," says Coverston. "It was fun exploring food together. The kids were using ingredients like endive, goat cheese and pomegranate seeds. They also learned about proper hygiene, serving etiquette and benefits to buying from local farmers."
"Kids will surprise you with how diverse their diets can be," says Fox. "Their diet should be more than chicken nuggets and PB&J. When kids take part in preparing and serving food, they are more likely to try it and like it."
Fox, who studies holistic nutrition, enjoys sharing her recipes and knowledge of healthy eating with others. She says a lot of people are afraid of food. Therefore, she tries to keep lessons simple but informative.
"When you eat real food (instead of processed), you don't have to worry about things like weight," says Fox. "Eating seasonal foods also gives your body exactly what it needs."
Want to know more?
Classes offered in the Morrison YMCA Teaching Kitchen are based on healthy whole foods, while also limiting the use of sugar, refined flours and hydrogenated fats. For more information on upcoming classes, visit www.ymcacharlotte.org or call 704-716-4650.