When selecting a school, one Charlotte family says: "Keep it simple, follow your heart."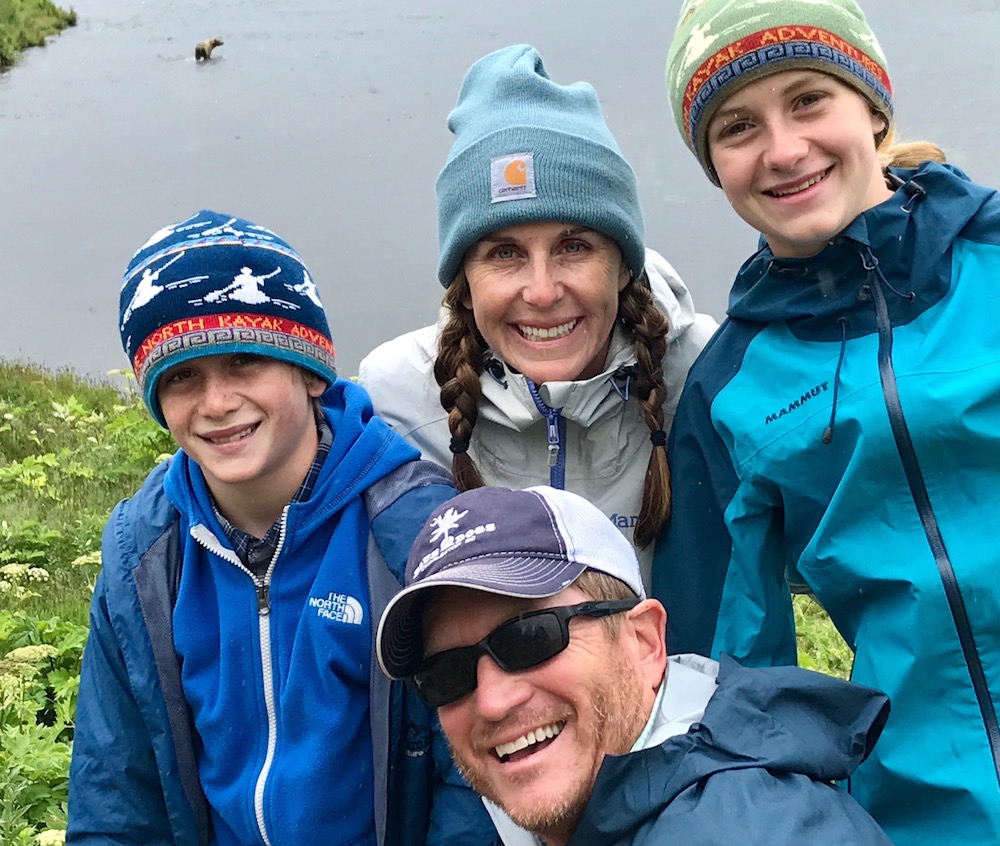 When selecting a school, one Charlotte family says: "Keep it simple, follow your heart."
Your child's education is important, so where do you start when choosing a school in Charlotte? Here are five questions to ask yourself, from a native Charlottean and father of two.
FROM LEFT TO RIGHT: WEBB (6TH GRADE, TRINITY EPISCOPAL SCHOOL), JAMIE KISER, ELIZABETH KISER, AND MARY CATE (TRINITY EPISCOPAL SCHOOL '19, CURRENTLY 9TH GRADE, CHARLOTTE LATIN SCHOOL)
As a parent, selecting where your child will spend most of his or her early childhood and adolescent learning is often a daunting decision. For many, a quality education is top-of-mind, yet what constitutes a "quality education" is often viewed through too narrow of a lens.
These days, "quality education" has become synonymous with "rigor" or "academic excellence," two phrases that drape the hallways and websites of most local schools. However, independent (or private) schools are inherently different than their public counterparts—they don't have to follow the common core, and they have the liberty to approach and define what a "quality education" means to their community, students, and parents.
In this season of school research, admissions, and, ultimately, school selection, we asked one Charlotte parent, Jamie Kiser, to bring his perspective to this process.
Jamie and his wife, Elizabeth, are parents to two children: Mary Cate (ninth grade) and Webb (sixth grade). While their school selection process began over 10 years ago, it still feels like yesterday to the Kisers. Jamie, a native Charlottean, is a graduate of Charlotte Latin School. While his roots and respect for CLS run deep, he and Elizabeth, like many parents, decided they would cast a wide net when it came to selecting a school for then-5-year-old Mary Cate.
After exploring both public and private options, and after a lengthy yet meaningful conversation with a fellow CLS graduate who'd chosen Trinity Episcopal School for his children, Jamie felt a strong connection to Trinity's progressive, grounded nature: a budding K-8 independent Episcopal school right on the outskirts of uptown in First Ward. While Trinity spoke to many of the same tenets other surrounding schools boasted—academic excellence, character-building, a commitment to service—he saw how the Trinity program brought them to life in an ineffable way, making it, in his mind, the right fit for his family (and one of the best-kept secrets in the city).
Mary Cate, now one of Trinity Episcopal School's most recent graduates, is currently following in her dad's footsteps as a ninth-grader at Charlotte Latin School. Webb can be found on Trinity's third floor as he begins his career as a middle-schooler. Jamie and Elizabeth remind parents of a few key questions to consider throughout school research, all focused on helping families lead with their hearts through this important decision.
5 Key Questions to Ask Yourself When Choosing a School for Your Child
1. What does academic excellence mean to your family/child?
While many parents might define the strength of a school's academic program by the honors courses offered or matriculation lists, Jamie was refreshed by Trinity's perspective that "academic excellence" goes beyond those measuring sticks.
At Trinity, he saw teachers challenging students to pursue academic excellence on a more holistic basis by helping the children to understand themselves as learners, empowering them to own their strengths in the classroom and persevere through their struggles for growth. Similar to the "real world," individuals simply cannot be perfect in every subject, task, or assignment they encounter. With adolescent stress ever on the rise, Jamie admired this balanced, individualized approach that yielded inquisitive students who knew how to learn, not just how to memorize rote facts.
Tip: When considering how your family defines and values academic excellence, make sure to scratch beyond the surface of impressive statistics and course guides. Picture your child beyond these school years and what you hope for him/her in college and, ultimately, the real world. Like Jamie and Elizabeth, many of us want our child to love learning, and, even more so, to become intellectually curious both in and out of the classroom. Make sure to ask yourself how the schools you are researching are cultivating these life-long skills in their students.
2. To what degree do you want your child's school to help build character and a heart for service?
Many times, Jamie mentions how one of his family's biggest draws to Trinity was the school's approach to knowing, loving, and honoring each child as an individual. When children and adolescents feel seen and known, something special shines through a school's student body. There is a level of trust that every community member's originality and learning style are valued.
To Jamie, this approach is the true foundation for character development. When students feel loved, they feel confident. When they feel confident, they blossom. When they blossom, they are able to share their gifts, compassion, and love with those around them. This virtue of being known and loved has allowed the Kisers' eldest, Mary Cate, to pursue passions such as her dedication to environmental conservation. As an eighth-grader, Mary Cate traveled to Atlanta for The Climate Reality Project, where she had the opportunity to learn from Al Gore at a three-day activist training program—not a typical experience for a middle school student and one that she defines as a highlight of her education thus far.
As for Jamie's 12-year-old son, Webb, the freedom of hands-on learning keeps him engaged and intellectually curious. Webb also loves the variety he finds in his peer network, a group of individuals Jamie describes as inclusive, loyal, and, above all, kind to one another. Jamie is proud of his son for being recognized on more than one occasion for standing up for his peers in and out of the classroom. He attributes Webb's sense of compassion to Trinity's cultivation of an environment where all students are valued.
These aspects of Trinity also serve as the foundation of a deep-rooted service learning program in which each grade level partners bi-weekly with a community organization such as Urban Ministry Center, InReach, or Refugee Support Services. This program challenges the Trinity community to go deeper than serving occasionally, providing meals or conducting drives for supplies because it also asks students to engage with homeless neighbors, refugees, and individuals with different abilities on a regular, ongoing basis. This type of regular interaction encourages students to pay forward the gifts they have been given at Trinity to know and love others from different walks of life.
Tip: Not every school community has the resources or framework to build these types of programs, and not every family believes that community engagement should be part of a traditional school day. When researching schools, don't forget to consider aspects of student life and development outside of the classroom, determining how important those factors are to your child and family.
3. Is the school reflective of our city?
Charlotte is ever-growing, and with that, our city continues to become even more diverse socio-economically, racially, ethnically, and religiously. Many schools—public and private—do not fully reflect the great fabric of our city's people.
When Jamie stepped onto Trinity's campus, he says he was refreshed to see that the school's student body, faculty, and families actually reflect the diversity of Charlotte. With approximately 30 percent racial/ethnic diversity, nearly $2 million of financial assistance granted each year, and an inclusive mission at the heart of all the school does, Trinity has been committed to building a diverse community since the school's inception in 2000. As both parents and professionals, this notion of diversity and cultural transparency speaks volumes to Jamie and Elizabeth.
"To thrive in our communities, workplaces, and relationships, we need to be able to adapt to an ever-changing world and the challenges that come with it. The ability to think critically, to analyze, and to problem-solve become more important each day." To Jamie, this dexterity "requires a level of character, diligence, and resilience that isn't present within the standard education system."
Tip: Children can be in a given school community anywhere from six to 13 years, depending on the structure of the school. During this large portion of your child's life, the people around your child at school will be a natural influence—think about that as your family considers different educational communities. Pay attention to the children and families attending. Will they bring different perspectives and life experiences to the classroom? Will they help your child grow? Diversity can be defined in a multitude of ways, so consider which dimensions matter most to you.
4. Do you want spirituality to be a part of the educational framework for your child?
As Jamie and Elizabeth researched schools, they realized that, just as Trinity cherished students for their unique personalities, backgrounds, and inherent passions, the same accepting nature prevailed spiritually under its Episcopalian values. They admired how spirituality was "infused throughout the culture of the school" without being "overbearing or a distraction."
At Trinity, spirituality is meant to be an inclusive and expansive, grounding element of teaching, but not in a way that eliminates a student's individuality. The Episcopal school tradition is one that cultivates curiosity while provoking an intrinsic sense of purpose and fullness of life. Nurturing spirituality does not focus on indoctrination in a particular religious tradition. It means nurturing each individual's spiritual journey—whatever that may mean to that person. This work often produces character-defining moments and encourages students to question what their compasses may be outside of things that resemble material "success."
Jamie describes the presence of this teaching as essential to his children's education, one that encourages them to be open, creative thinkers.
"They are guided to embrace and truly understand the individuality of others," he says, an ability he feels is often overlooked within education and beyond. Jamie admires the sense of awareness he notices in his children when they speak to other religions, groups of people, and foreign concepts. Instead of contrasting one religion against another, Trinity is committed to demonstrating the notion of: "Yes, there are differences among these religions, but more importantly, let's look at how much they are alike."
Tip: The spectrum of spirituality and religious traditions within schools is broad in Charlotte—from none to evangelical. Ask yourself, first, if the component of spiritual grounding is an essential element to your child's education. If so, look critically at the type of spiritual teaching— is it traditional or progressive? Is there a singular tradition accepted or are all traditions accepted? From there, decide what is the best fit for your family.
5. What does it all come down to—what are your gut and heart telling you?
As children grow out of their toddler years, the school selection process runs deeper than many of us realize. Many families—the Kisers included—simply "know" when a school is right for them. Their experience when they first stepped onto Trinity's campus was tangible—Jamie and Elizabeth were stirred and felt known. They knew they deeply wanted their children to grow inside of the school's diverse, grounded, scholarly community.
Tip: Be aware of your gut feeling as you visit campuses, talk with teachers, and hear about school missions. The right choice will reveal itself to you if you're willing to listen to your gut, and, ultimately, your heart.
The first step to finding out if a school is right for your family is to visit the campus. To learn more about Trinity Episcopal School and see if you get that good gut feeling upon visiting, click here to sign up for a Campus Tour.