What's in the Bag? Packed Lunches 101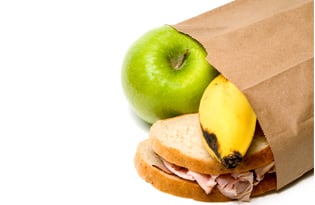 Fit Family Challenge nutrition expert Elaine Jones emphasizes the importance of eating well away from home, not just for kids but for adults, too.
"Even when you're on the go, lunches still need to pack in as much nutrition as possible," says Jones.
To help parents build healthy meals on the fly for the whole family, Jones suggests keeping a checklist handy to ensure a protein, whole grain, fruit, vegetable, dairy and one optional snack or treat item is included to create a balanced lunch with staying power.
Letting the kids get involved in the process can save time, and encourages them to expand their culinary horizons.
"Having children participate in the selection of items is a great way to get them to eat better," says Jones. She suggests letting your kids help create the shopping list and having them lend a hand in the kitchen.
"Having children help with meal preparation actually tends to increase their sampling of more foods because they want to try what they have helped cook," says Jones.
Fit Family Challenger Kelley Fluharty still finds that front-loading her week with a little packed lunch prep on Sunday is the easiest way to ensure she eats healthily while at work.
"Planning and prep work are key in my household," she says. "I spend Sunday afternoons prepping food for the week, and this is really the one thing that has helped me more than anything throughout the challenge." Fluharty's prep work usually involves cooking chicken in a crockpot, fixing a batch of rice or quinoa, roasting vegetables, and cleaning and cutting fresh fruits and vegetables.
Fluharty says she also saves time by making dinner serve double duty. "When you cook dinner at night, and you are cleaning up, pop some leftovers into a container and it is ready for your lunch the next day," she says.
While her son Christopher actually prefers to eat at school, Fluharty thinks that their exploration of "clean eating" in the Fit Family Challenge has piqued his interest in new foods and will encourage him to eat more lunches from home this year.
Not sure where to start when packing a lunch? First of all, think beyond the brown paper bag. A wealth of insulated lunchboxes, intricate bento boxes, coolers and bowls exist, and having the right gear will open up a whole new world of lunch options far more thrilling than the standard PB&J.
Healthy Lunch Checklist
Protein: Turkey breast, grilled chicken, tofu and almond butter.
Whole grain: Whole wheat bread, brown rice and air-popped popcorn.
Fruit: Orange slices, unsweetened applesauce, raisins
Vegetable: Carrot sticks, cherry tomatoes and zucchini rounds.
Dairy: Yogurt, string cheese and cottage cheese
Related Articles:
> 5 Tips to Stay Positive While Getting Healthy
> Choices: Lunchboxes
> Turkey Wrap Recipe
Watch Editor Eve White and nutrition expert Elaine Jones discuss healthy lunches on Charlotte Today, WCNC.