What We Learned From the Fit Family Challenge
How the Fit Family Challenge reinvigorated the Howe Family.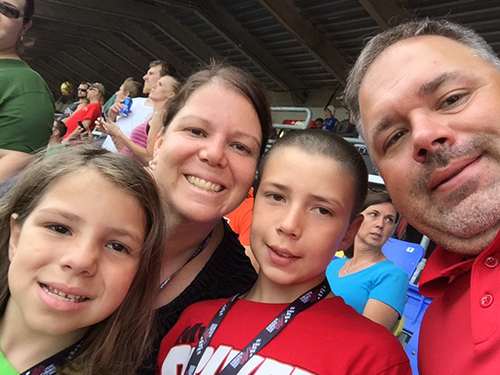 Dreams can come true and patience is a virtue. Both Tyler and Molly asked if they could add lettuce to their tacos during the last week of the Fit Family Challenge. This is a first and am happy to say won't be the last time they add lettuce, thanks to what the challenge has taught us over the past 10 weeks.
Having the kids try more fruits and vegetables was top on our list of goals for the challenge. Molly was willing to try anything once and luckily somethings two or more times. She has now added watermelon, broccoli, green beans, peas and lettuce to her repertoire. Tyler resisted a little bit more, but has still come a long way. He is now eating salad (he loves the lettuce from our garden tower) and fresh pineapple.
Water has also become a life-line in our family. We are all drinking more water and getting more steps in running to the bathroom more often. From what I hear, even when I am not around, Tyler is choosing water. Two different times he was at a friend's house and was offered soda and chose water instead. He has also had an influence on others. One of his teammates ordered water the other day when we were out to eat and said, "If Tyler can do this, so can I." Todd is down to drinking only one cup of coffee a day and has stopped putting sugar in that one cup. Last weekend we traveled out of town to watch Tyler play in a baseball tournament and didn't even pack one Gatorade.
We did accomplish our goal of starting a garden. Our Tower Garden is doing really well. Within the past week we have harvested a pepper, a zucchini and a cherry tomato. There really is something to eating a tomato from your garden, rather than from a plastic container. I am also anxious to turn the zucchini into zoodles (which is on the menu board for this week), using the spiralizer my mother-in-law bought us. She also bought us a Yonanas, which turns frozen fruit into a healthy dessert. These two gadgets have helped us stay on track without ever feeling deprived.
I am happy to say that my car no longer knows the way through a drive-thru. If we are eating out, we park our car and walk in. This has helped us to avoid some unhealthy options and has forced us to plan ahead. Instead of grabbing and driving before baseball practice or Faith Formation, we have a snack like a cheese stick and a yogurt and wait to have our meal at home after our activities.
As a family, we completed the Color Run 5K. We got more than we bargained for when we crossed the finish line. What we though was a muscle spasm in Todd's calf after the race, ended up being Compartment Syndrome that landed him in the hospital for five days. However, it brought us closer as a family, helped us focus more on our health and made us grateful for what we have.
Weight loss was also a goal for Todd and I. He lost 16 pounds and a trip to Kohl's for a new belt. I lost 5 pounds on top of the 25 I lost before the challenge started. I also took a trip to Kohl's for new summer clothes (two sizes smaller than I was wearing last summer) and a trip to Target for a new bathing suit. I also was able to get my wedding band on for the first time in 9 years. That is my biggest take-away.
What is most important to mention about the Fit Family Challenge is what we gained from the experience. While it may not be cool to talk about "gaining" in a health challenge, these things are important. We learned to plan ahead, to rely on one another and to be confident in who we are and where we are going.
Meal planning has saved us time, money and calories. Not to mention the fact that we have tried some new things. Who knew Tyler liked Tuna, minus the Wasabi. We also utilized online grocery shopping to eliminate impulse buying. Molly still can't understand why there are no cookies in the grocery bags every week. Shouldn't the people at the store know we like them? The challenge has also allowed us to eat more meals around our table and to interact with one another more. We have shared a lot of laughs and a few spills.
Mostly the challenge has given us the confidence to continue this health journey that we have started. We will have some uphill battles, but we know that we can do this. This week's grocery list doesn't look different from last week's because the challenge is over. I haven't stopped getting up at 5:00 a.m. to go to Burn Boot Camp. Molly and Tyler are still spending lots of time playing outside and Todd is still taking a lunch to work. Another benefit is that I have found joy in writing again and sharing our story.
Thank you to everyone involved in the Fit Family Challenge for helping to refocus and reinvigorate the Howe Family!
---
Jennifer Howe and her husband Todd, and children Tyler, 9 and daughter Molly, 6, are participating as one of our 2016 Fit Family Challenge spotlight families. Learn more about their healthy family journey here, and follow along with Jennifer as she updates us this Spring and Summer in the Fit Family Challenge Blog.