WEEKENDER: Mount Airy
Where to eat, stay, and play in the town that inspired Mayberry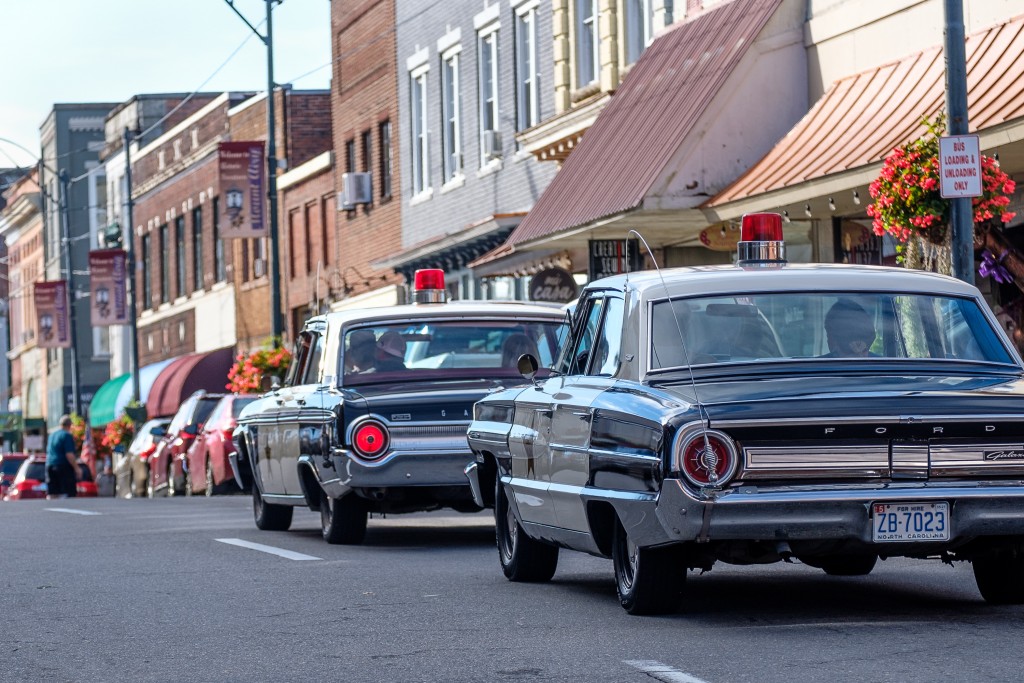 It's easy to zoom past Mount Airy, North Carolina as you drive up I-77 on your way to hit the ski slopes in West Virginia or view the autumn leaves along the Blue Ridge Parkway. But consider pumping the brakes about two hours north of Charlotte at exit 100. Just eight miles off the interstate, you'll find a destination that feels frozen in time. Mount Airy is the birthplace of Andy Griffith and the inspiration for the town of "Mayberry" in his iconic television series. To honor that history, Mount Airy has preserved many of the sites made famous on The Andy Griffith Show. But the town has many modern-day attractions for families as well. Take some time to explore it for yourself and be sure to capture some unforgettable family footage of your own.
STAY
Just outside Mount Airy's historic downtown, have your pick of charming bed and breakfasts. This is an especially good option if you have older children who enjoy a new lodging style. Relax on a porch rocking chair at Heart and Soul, enjoy the library and themed rooms of Sobotta Manor, or stay in a renovated Victorian home at Bee's Bed and Breakfast. Fans of the show can stay at Andy Griffith's boyhood home at 711 E. Haymore Street, less than a mile from the center of the city. The property has two bedrooms, one bath, and plenty of show memorabilia. If it's hard to rouse the kids out in the morning, have a continental breakfast from the Hampton Inn Mount Airy delivered to the home. If you have early risers, venture into town for coffee and scones at Keep Smiling A'Latte.
EAT
No trip to Mayberry is complete without a famous pork chop sandwich from Snappy Lunch – just make sure to pack wipes for the kids. Nothing on the menu is over $5 and kids can order hot dogs or grilled cheese that will set you back about $1.50. This landmark diner where Griffith ate as a youngster is credited as the only establishment mentioned by name on the show. After a good meal with a price tag from the 1960's, take the kids next door to Opie's Candy Store for ice cream, fudge, and all the "Old Tyme" goodies you knew as a kid.
PLAY
A day at Mount Airy's wineries may not be on the agenda with children in tow, but don't discount the family-friendly Serre Vineyards. Enjoy food trucks and live music, perfect for under-age dancing while the adults do the sipping, and don't be alarmed if you end up in a police car after sampling your wine flights. For $40, you can book a family of four in an antique Squad Car Tour and partake in one of Mayberry's most famous attractions. The 45-minute ride starts at Wally's Filling Station and swings by The Andy Griffith Museum and Playhouse where you can see a statue of Andy and Opie walking hand-in-hand to the fishing hole. The kids will love cruising down Main Street where they can see the Courthouse's jail cells and Sheriff Andy's desk. Later on the tour, view the world's largest open-faced granite quarry. Just don't forget the camera—the ride is full of good family photo ops.
WINE DOWN IN MAYBERRY
If you're up for a night out after a day of family activities, consider Old North State Winery in downtown Mayberry. Owners Ben and Ellie Webb housed the restaurant and tasting room in a former hardware store built in 1890 on Main Street. With original pressed tin ceilings, solid oak floors, and live music, it has a cool, upbeat vibe that kids will love. If you have a crew of adventurous eaters, enjoy farm-to-table dishes from world-renowned chef Christ Wishart who specializes in duck and smoked meats. The winery is open five days a week with tasting tours throughout the day.
KRISHA CHACHRA is a Charlotte-based travel writer who has visited over 50 countries and 6 continents. She loves to explore new places with her husband and 6-year-old daughter who is always up for an adventure—including long car rides—which can be an adventure in itself. Visit her at krishachachra.com or facebook and instagram @destinationsanddelish.