Visit Cherokee This Summer for Family Fun and Adventure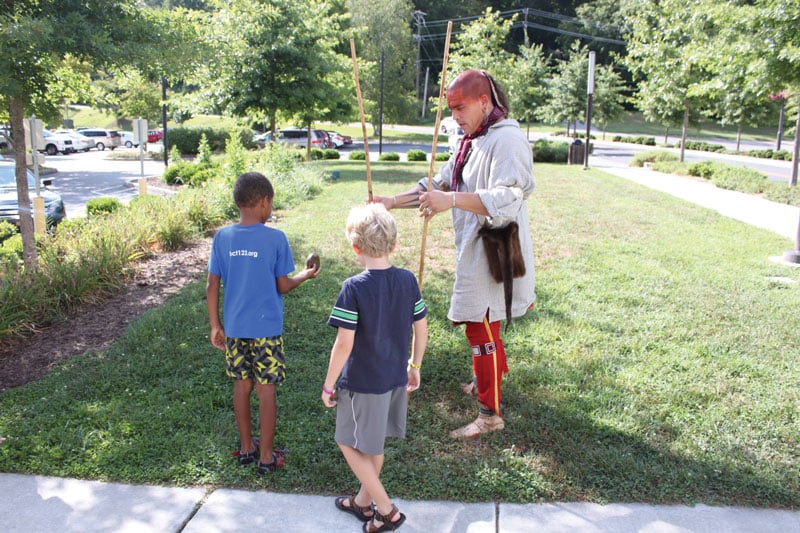 If your family is considering a trip to the North Carolina mountains this summer, Cherokee is an ideal choice for fun and adventure. Rich in history and natural beauty, Cherokee also offers proximity to the Great Smoky Mountains and Blue Ridge Parkway.
"The Cherokee people have been stewards of the land and waters of western North Carolina and, earlier, much of the Southeast, for many millennia," says Robert Jumper, interim destination marketing manager for the Eastern Band of Cherokee Indians. "It is important for people to know and experience Cherokee people and ways to understand the significance of the natural beauty that speaks to our stewardship of the land we love."
With a variety of outdoor recreation options and historical significance, Cherokee offers family-friendly attractions for all ages.
Museum of the Cherokee Indian
The Museum of the Cherokee Indian is the ideal first stop in learning about Cherokee people and their history. Take a self-guided tour, enjoy interactive exhibits, and attend special events and workshops for hands-on learning.
"A lot of what we have to offer you'll never find in a curriculum or a history book," says the museum's Cherokee Friends Manager Mike Crowe. "When you are trying to learn about people, it's best to go to the source." Admission is $11 for adults, $7 for ages 6-12 and free for children ages 5 and younger.
Oconaluftee Indian Village
This outdoor walking tour is a living-history museum of an 18th-century Cherokee village. See how arrowheads, pottery, canoes and baskets are made. Kids' art classes are also offered each day. The village is open April 18-Nov. 11. Admission is $15 for adults and $10 for children (call for age specifics).
'Unto These Hills'
As one of the longest-running outdoor dramas in the country, "Unto These Hills" enthralls audiences with its portrayal of the Cherokee past and present through triumphs and tragedies. All ages can enjoy the elaborate costumes, music and dance performances. The production runs nightly at 8 p.m. June 3-Aug. 19. There are no shows on Sundays. General admission tickets are $20 for adults, $10 for ages 6-12 and free for ages 5 and younger. Reserved tickets cost an additional $3.
Cherokee Bonfires
Listen to Cherokee storytellers tell fascinating tales by a summer bonfire every Friday and Saturday, 7-9 p.m., at the intersection of U.S. 441 and U.S. 19 in Oconaluftee Island Park. The bonfire series runs May 26-Aug. 26 and during October. No bonfire events are held in September.
Outdoor Recreation
Kids can splash or fish in the shallow waters at Oconaluftee Islands Park or spend a day exploring Great Smoky Mountains National Park. Take a scenic drive on the Blue Ridge Parkway then hike to a waterfall, such as the picturesque Mingo Falls. It's a moderate half-mile hike to reach the 120-feet-tall waterfall, which makes a great spot for a vacation photo.
While exploring Great Smoky Mountains National Park, stop by the Mountain Farm Museum, adjacent to the Oconaluftee Visitor Center, to get a sense of what life was like 100 years ago. Explore a log farmhouse, barn, blacksmith shop and springhouse. The spot also offers two hiking trails: Mingus Creek Trail and the Oconaluftee River Trail. The kid-friendly Oconaluftee River Trail is 1.5-miles, stroller-accessible and follows the river to Cherokee.
For Mom and Dad
Cherokee is also home to Sequoyah National Golf Club, Harrah's Cherokee Casino Resort, and Qualla Arts and Crafts Mutual — a Native American cooperative featuring traditional arts and crafts of the Eastern Cherokee.
Learn more about Cherokee and plan your family's trip at visitcherokeenc.com.

All ages will enjoy storytelling during the Cherokee Bonfire series, which takes place Friday and Saturday evenings through Oct. 28.
---
Myra Wright is the web editor of CarolinaParent.com and PiedmontParent.com. She frequently writes about North Carolina travel and enjoys exploring the state with her husband and three kids.