Virginia's Fairy Stone State Park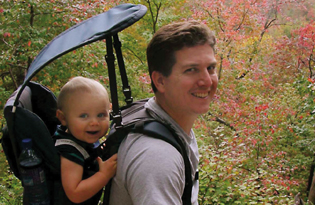 There's something magical about Fairy Stone State Park, even without the mysterious minerals found here. The 4,858-acre park gets its name from rare staurolite crystals, which are in abundance in the area, and in only three other places in the world. The mineral was formed in rocks during the formation of the Appalachian Mountains, and the stones are cross-shaped. Many superstitions surround the mineral, which was once thought to ward off sickness and bad luck. The most popular legend is that the stones are the crystallized tears of fairies, who wept when they heard about Jesus' death. But the park has much more to offer than these minerals.
My husband and I first discovered Fairy Stone State Park on a geocaching adventure a few years ago. We fell in love with the area and we visit several times a year, especially during the fall. The park, located in Stuart, Va., is a 2-hour, 15-minute drive Charlotte, and has 10 hiking trails, four of which are multi-use trails for biking and horseback riding. The park rates six of the trails as difficult and three as moderate, but we have hiked them all with no problems with our kids: 9, 6 and 1. The baby loves riding in the backpack carrier, he has even napped on occasion during our excursions.
The Stuart's Knob Trail System is our favorite area to hike. These trails include Lower Stuart's Knob Trail, Upper Stuart's Knob Trail, Iron Mine Trail and Whiskey Run Trail. From the parking location, you can take the Lower Stuart's Knob Trail and then Upper Stuart's Knob Trail to reach Bull Mountain Overlook. It's about a 2-mile hike, but the view at the top is well worth the trek. Along the way, there is a wonderful view of Fairystone Lake and old iron-mining sites.
The Little Mountain Trail System includes the park's remaining six trails. Our favorite trail in this area of the park is the Little Mountain Falls Trail, which is a 3.4-mile hike. The hike is rated as strenuous, but again, our kids had no trouble. I usually take a large beach towel on our hikes so that the kids can sit down and enjoy their water and snack. There are several creeks to cross, so make sure to wear appropriate shoes. We were able to cross each creek by stepping on rocks and logs, and never had to submerge our feet in the water, but it would be very easy for a child to do so. At the halfway point of the trail, there's a small waterfall, so bring your camera. Also be prepared to see lots of wildlife. We've spotted deer, turkeys, turtles and countless lizards.
Fairystone Lake, built by the Civilian Conservation Corps, is 168 acres, so there's also plenty of room for fishing and boating. You'll need a Virginia fishing license for fishing, and be sure to check with the park office for boat-launch locations.
The park also offers campsites and cabin rentals if you want to stay overnight. Nearby attractions include Virginia Museum of Natural History, Philpott Lake, Blue Ridge Parkway, Reynolds Homestead and J.E.B. Stuart Birthplace.
If You Go, You Need to Know:
Fairy Stone State Park
967 Fairystone Lake Drive
Stuart, VA 24171-9588
276-930-2424
On the Web:
www.dcr.virginia.gov/state_parks/fai.shtml
Admission:
Parking/admission is $3 on weekdays and $4 on weekends. There are additional fees for camping and cabin rentals, and rates are seasonal. Check Web site for details.
Hours:
Daylight until 10 p.m.
Additional Info:
If you want to search for fairy stones, take Route 57 (take a left when leaving the park's main entrance) and go 3 miles to the first service station on the left. Fairy-stone hunting is permitted on the land to the left of the station, but digging is prohibited. No worries, though. There are plenty of fairy stones that can be found simply by raking the top of the soil. Commercial hunting of stones is also prohibited.
Myra Wright is editor at Piedmont Parent Magazine and enjoys exploring new parks and forests with her family.