Unique Charlotte Day Camps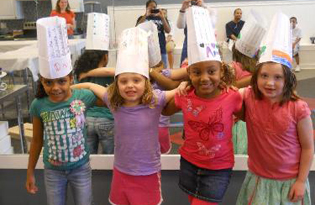 For kids who have specific interests or just want to try something different, consider these unique day camps in and around Charlotte.
Camp Robot Inventor
704-566-9001
southcharlotte.clubscientific.com
Campers learn about the science or robotics and major innovations in robot history, make remote-controlled robots, and learn to solder.
Flour Power Kids Cooking Studios (pictured)
704-759-4337
flourpowerstudios.com
Campers learn how to create their own snacks and lunch, and develop life-long skills that include math, science, reading and chemistry.
Horse Vaulting at Shea Rose Farm
704-843-4306
shearosefarm.com
Vaulting is gymnastics on horseback. A great activity for anyone who loves horses. No gymnastics experience necessary.
Junior Top Cats Summer Camp
Panthers.com/topcats
Carolina Panthers cheerleaders lead this high-energy camp that teaches dance routines and cheer techniques in a positive environment.
Junior Vet Camp at Triple Play Farm
704-608-8441
tripleplayfarm.com
Three days of vet camp for children who have a serious interest in pursuing a career in veterinary medicine.
School of Rock
980-228-9406
charlotte.schoolofrock.com
Budding musicians can rock out together while building on basic fundamentals and learn to play a few simple rock tunes through music games and group play-alongs.