Two-Wheelin' Fun During BIKE! Charlotte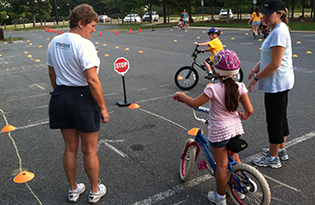 Break out the bicycles and gear for the 13th annual BIKE! Charlotte. The City of Charlotte Department of Transportation, Charlotte Area Transit System and Charlotte Sports Cycling are joining forces again to get Charlotteans peddling their way to good health with more than two weeks of bicycle-related activities through May 12.
From bicycle rodeos in Ballantyne where children can learn safety basics of biking to a kids mountain bike intro and ride, and a Family Fun ride in Madison Park, the events are meant to inspire and encourage residents and their families to break out the bicycles and integrate them into their daily routines.
As a part of BIKE! Charlotte, take advantage of the 24-hour free B-cycle rentals May 6 through 10. Look for one of 20 B-cycle stations strategically placed throughout uptown and surrounding neighborhoods from Central Piedmont Community College to Freedom Park to explore the area without the car. Or load your bicycle on the LYNX Train May 5 through 11 and ride for free compliments of Charlotte Area Transportation System.
It all wraps up with BikeFEST May 12. Plan on scavenger hunts, cycling, skating, a bike rodeo and a bike parade, plus music, food, kids crafts and activities. Bike Drive for Trips for Kids Charlotte will be there collecting "dusty, but not rusty" bikes.
See the complete schedule of events at bikecharlotte.org.