Tween Survival in Middle School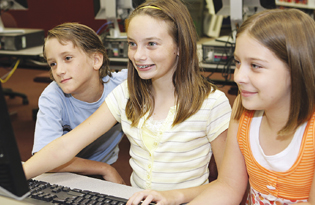 Middle School can be one of the most daunting and challenging periods of development children ever experience, and parents believe it or not, they have a huge impact on how their kids behave and whether they succeed or fail.
Children begin their transition to adulthood in earnest in middle school. But, unfortunately, I see a wide range of common problems, including disengagement, emotional distress, lack of attention, low achievement, negative peer pressure, risky behavior, distractions caused by mass media and hormonal development, and involvement with cliques, bullies and gangs.
The first mistake parents make is assuming a child has a learning disability or mental problem. Some genuinely do have medical problems that lead to difficulties in learning, but most simply are just having difficulty figuring out their ever-changing body and the ever-increasing complexity of the world around them.
The second biggest mistake is believing school is for kids at this age and parents of middle-schoolers should stay away. School is not day care — parents need to learn what's going on, pay attention to what's happening, get involved and jump on news and events (good and bad) and be well-behaved no matter what happens.
Here are some simple and practical strategies for helping your child succeed in middle school.
Remember: YOU, the parent, are the linchpin. Recognize that while success in middle school is a team effort with the parent, the teacher and the student, you are the most important part of the team. You influence your child, and you influence the teacher. Acknowledge your role, and take the responsibility for what happens.
Communicate with your child. Talk in the morning, in the afternoon and in the evening. Talk by phone. Text your child, as frequently as appropriate, to coordinate where he or she is and what's going on. Stay in direct contact with your child, and do not lose the direct personal attention and connection.
Find out what's really happening at school. Visit the school often and get all the information the administration has available. Read the parent newsletter. Search the Internet. Study the school web page. Learn about extracurricular programs and opportunities for family involvement. Talk to the teachers, coaches and other parents and put events on your calendar. Learn and think about what your child is doing, with whom and when from morning to night.
Encourage your tween to get involved in school activities. Clubs, sports, music, theater and other sponsored and monitored after-school activities are important for middle-school students. Encourage your child to develop interests, skills and the desire to perform and develop in all sorts of ways. This is the time to explore! Boredom after school can lead to trouble.
Get involved yourself. Go to events with your child, even if he or she asks you to sit on the other side of the auditorium. Be a classroom or office helper, be a fund-raising volunteer, offer to chaperone, offer to cook, offer to help clean up at events.
Attend school conferences. Make all parent-teacher conferences a mandatory event. Learn what is being taught in each class, look at the books and materials your child is using, read progress reports carefully.
Know the rooms and facilities where your child is spending each day, and put names to faces. Be sure you know how to contact teachers by phone and e-mail if you have questions. Contact teachers if you have questions, and follow up actively if you don't hear back in a timely fashion.
Pay close attention to how your child is doing. Grades are important, but not everything. Is your child happy? Does he or she do what's necessary with a good attitude and an open mind? Is your child suddenly withdrawn, frustrated or angry? Pay attention to the clues, and think about what might be going on. Ask questions gently and open the door to a dialog. Listen … and don't take rash actions.
Meet with teachers one on one. Problems may arise in middle school that weren't there in elementary school: assignments turned in late or not turned in at all, low grades on quizzes, unexcused absences and problems with other students. You should ask for a teacher conference with an attitude of helpfulness. Don't accuse. You and the teacher are there to help your child help himself or herself to be more successful.
Stay connected with your tween. Expect changes to be resolved slowly over time and not overnight. Let your child know you are informed. Understand students stretch the details and embellish facts. Realize their hormones are changing and that the drama and emotion often are what's governing their reality. Don't be judgmental or automatically rush to your child's defense or take sides. Stay in touch and be there when he or she needs you.
Robert N. Walrond is the author of "Every Parent's Guide to Middle School Success" (CreateSpace, July 2010, $8.99). He has been a public school seventh- and eighth-grade teacher for almost two decades. Walrond lives with his wife and children in Antioch, Calif.