Top Picks for Eco-friendly Building Blocks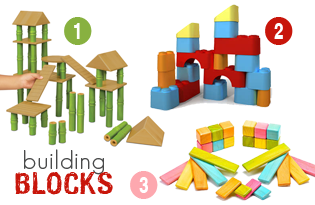 1. Lakeshore's Bamboo Building Blocks
Lightweight, durable and made of rapidly renewable bamboo, these blocks come in a variety of shapes, including columns, roofs and bridges. 42-piece set is $39.99; 80-piece set is $69.99; lakeshorelearning.com.
2. Green Toys Blocks
Boldly colored, oversized and lightweight blocks connect to build castles, houses and anything else young minds can imagine. No BPA, PVC, phthalates or external coatings; made in the USA from 100 percent recycled plastic milk containers. 18 blocks, $27.99; shop.greentoys.com.
3. Tegu Tints – The Discovery Set
Safely embedded magnets in different-sized blocks and planks make it fun to build structures that bend, move and really stack up. Designed in the USA and purposefully made in Honduras from FSC-certified Honduran hardwoods with nontoxic, water-based lacquers. 26 blocks and carrying case, $75; tegu.com.