Top Online College Planning Resources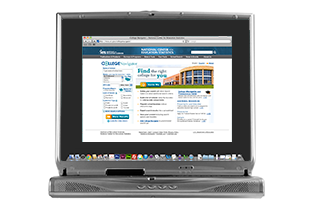 College Planning at Your Fingertips
College planning is a breeze with this helpful list of online resources.
JUMP AHEAD:
• Getting Started
• The College Search and College Rankings
• Testing & More
• Applying
• Financial Aid & Scholarships
• Other Helpful Sites
Sponsored Resources

Amtrak
amtrak.com
Student Advantage cards save students 15 percent on most Amtrak fares.


Army National Guard
nationalguard.com
The Army National Guard can help students pay for college.


Surry Community College
surry.edu
Serves Surry and Yadkin counties with conveniently located centers.


Winston-Salem State University
wssu.edu
Offers seven bachelor degree programs and three masters degree programs in education.

Big Future by the College Board, bigfuture.collegeboard.org
1. Big Future by the College Board
Resource-rich website for students and parents. Explore careers, plan for college, find out about paying for college, and search colleges by type of school, location, campus/housing, majors, sports/activities, academic credit, diversity and more.
2. College Confidential
Includes an active discussion forum plus college search tools and information on paying for college, admission, college life and a section called Ask the Dean. Students can join discussions, see and post videos and photos, read student reviews and search colleges based on a variety of criterion using the SuperMatch College Search program.
3. College Foundation of North Carolina
A free service of the state of North Carolina that helps students plan, apply for and pay for college. Students create profiles and can track high school activities, request electronic transcripts, and apply to North Carolina colleges and universities. Also has free SAT/ACT prep information and college and career exploration tools.
4. Education Planner
Career and college planning website geared toward middle- and high-school students.
5. Future for Kids
Connects students to career coaches and businesses across North Carolina for career exploration.
The College Search and College Rankings
1. CollegeProwler
Written by students, the website contains insider guides to college campuses. The site has more than 200,000 student reviews.

SuperMatch College Search Program, collegeview.com
2. CollegeView
Uses the SuperMatch College Search program, through which users type in a school or search schools based on a number of categories, such as location, majors, tuition, size, sports and Greek life. Also has articles on applying to college, careers and majors and financial aid. Links to College Confidential for other information.
3. College Navigator
Narrows a search by asking for the school name or geographic location, major, level of degree and institution type. Published by the Institute of Education Sciences, you'll find information about tuition, financial aid, admissions, enrollment, majors, sports, campus security and more.
4. eCampus Tours
Take virtual tours of more than 1,200 college campuses.
5. Kiplinger
Ranks the "Best Values in Public Colleges" each year, featuring categories such as the "10 Best Public College Values" and the "10 Best Values in Public Colleges for Out-of-State Students."
6. National College Access Program Directory
Allows students and parents to conduct college searches based on programs.
7. Peterson's
Offers a "3-Step College Match Tool," which asks about type of education program, majors and geographic location preferences. Also has additional college application and educational options information.
8. The Princeton Review
Analyzes colleges based on academics/administration, campus life, extracurricular offerings, politics, quality of life, schools by type, social scene and town life. (Set up a free account to access most of this information.)
9. U.S. News & World Report
Annually ranks schools on a national, regional and liberal arts basis, as well as lists the best values in public and private colleges and universities.
10. YOUniversityTV
Aggregates video tours of college campuses across the country. Create a free login then search for a specific school or search by location, state or criteria.
1. American College Test (ACT)
Register for the ACT and explore resources including practice test questions, testing tips, college search tools and a financial need estimator. Also has financial aid information.
2. College Board
Sign up for the SAT and SAT Subject Tests, find practice SAT test questions and testing tips and learn about Advanced Placement testing and courses. Also search and save colleges based on personal interests and criteria, explore careers and much more.
3. Number2.com
Free online test preparation site for SAT, ACT and GRE.
1. The Common Application
Provides an undergraduate admissions application — online and in print — that students may submit to any of the participating universities and colleges. This is also true for the School Report, Optional Report, Midyear Report, Final Report and Teacher Evaluation forms. The next generation Common Application Online (CA4) will launch August 2013.
1. Education Finance Council
An association of loan providers. Offers helpful College Center section on website with variety of financial resources.
2. Federal Student Aid
A part of the U.S. Department of Education, this site provides the Free Application for Federal Student Aid to determine eligibility for federal grants, loans and work-study funds.
3. North Carolina State Education Assistance Authority
State agency that administers programs designed to help college students pay the costs of higher education.
4. Sallie Mae
Information about student loans, savings and CDs, 529 plans, UPromise rewards and other ways to pay for college.
5. Scholarship Plus school system sites
Database of scholarships compiled by a school district. Sort by source, discipline, deadline or create a custom sort. Also includes counselor tips and more resources.
6. StudentAid.gov
Government website with information about federal financial aid.

NCAA Eligibility Center
1. The Education Conservancy
A nonprofit organization that strives to improve the college admissions process by providing thoughtful advice, advocacy and services for students, colleges and high schools.
2. National Association for College Admission and Counseling
Has a section for students and parents with information about fall and spring national college fairs and visual and performing arts fair schedule. Also has financial aid information.
3. National Collegiate Athletic Association (NCAA) Eligibility Center
Student athletes create an account and register with the NCAA to certify athletic eligibility to Division I and II institutions. Students who plan to participate with or without a scholarship as a freshman in college must register with and be certified as eligible by the NCAA Eligibility Center.
Read More:


College Planning Resources