'Tis the Season to Give Back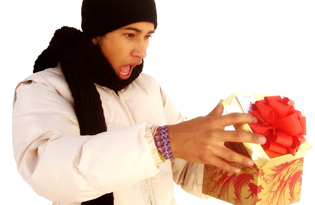 It's so easy to get caught up in the hustle and bustle of the holiday season and lose sight of the things that are really important. This year, why not involve your children and make an effort to help those in need and find out what the real joy of the season is all about?
What can kids do?
When teaching your kids about the importance of giving, try to choose charities and volunteer activities that appeal to them.
Here are some ideas:
• Have your kids go through their closets and pick out clothes that have not been worn in a while and give them to the Salvation Army, Goodwill, or the Kidney Foundation
• The same goes for toys. Have your kids select a few that they no longer play with to donate to a local children's home.
• On your next trip to the grocery store, buy dog or cat food to donate to the Humane Society. Have your kids come with you to deliver the food and allow them to spend some time with the animals so they can get to know the recipients of their gifts.
• Have your kids make holiday cards for the elderly in a nursing home, then take them to deliver them in person.
• Your kids can also volunteer to help elderly neighbors (or grandparents) with decorating and wrapping gifts.
• If you're looking for a more structured volunteer program, the following local organizations have programs designed especially for youth:
Holy Angels of Belmont provides services for children and adults with varying degrees of mental disabilities. Their VolunTEEN program gives young people an opportunity to work firsthand with residents and staff. The program provides teen volunteers the opportunity to receive training and experience in health care and education in the field of mental retardation and developmental disabilities. For more information, visit www.holyangelsnc.org or call (704) 825-4161.
Habitat for Humanity's "Building on Youth" program is a four-step process designed for ages 5-15; involving learning about Habitat, helping Habitat through the completion of two volunteer activities, reflecting on the learning and volunteer processes and celebrating accomplishments. For more information, go to www.habitatcharlotte.org/getinvolved/volunteer/youth-programs.
Here's Another Idea . . .
You know those people in our lives that are just impossible to shop for? Instead of stressing out about what to buy them this year, why not make a donation to one of their favorite charitable organizations. This is also a great idea for teachers, coaches, troop leaders or dance instructors. After all, how many scented candles and coffee mugs can one person get?
You can also apply this concept to children. Here are some of our favorite donation ideas for kids:
• Defenders of Wildlife — for a $25 donation, you can symbolically "adopt" a threatened creature. Plush toy replicas of each animal will be sent to new adoptive "parents," along with an adoption certificate. For more information, go to www.defenders.org.
• Save the Manatee Club – adopt a manatee by making a $25 donation and you will receive an adoption certificate, a photo and a life history of an individual manatee. For more information, visit www.savethemanatee.org.
Below is a listing of local charitable organizations and the services they provide, as well as information on how you can help.
A Child's Place
A Child's Place is a community organization that works in collaboration with Charlotte-Mecklenburg Schools to provide education and support services, and to advocate for children and their families who are homeless or at risk of being homeless. For information on volunteer needs and a complete holiday wish list, visit www.achildsplace.org or call (704) 343-3790.
Bethlehem Center
Bethlehem Center of Charlotte is a community, faith-based non-profit organization, dedicated to renewing hope, strengthening family life and promoting self-sufficiency.
Crisis Assistance Ministry
The mission of Crisis Assistance Ministry is to provide assistance and advocacy for people in financial crisis, helping them move toward self-sufficiency. Needs include blankets and bedspreads, sheets and towels, kitchen accessories, furniture and major appliances. Monetary donations are always welcome. For a more complete list or for volunteer information, call (704) 371-3000 or visit www.crisisassistance.org.
Loaves & Fishes
The Loaves & Fishes mission is to provide groceries and support to people in crisis. Priority needs include canned fruit, 100 percent juice, pork and beans, peanut butter, canned meat and soup. Honor the special people on your holiday gift list by purchasing a holiday card designed by renowned North Carolina artist Harris Holt through Loaves & Fishes. For more information, visit www.loavesandfishes.org or call (704) 523-4333.
Thompson Child & Family Focus
Thompson Child & Family Focus provides comprehensive residential treatment services for children ages 6 through 16, most of whom have emotional and behavioral disorders stemming from a history of abuse and neglect. There are many Holiday Giving Opportunities with Thompson, including individual gifts and gift cards. For more information, call Rachel Eldridge at (704) 644-4403.