Tips to Plan a Toddler's Birthday Party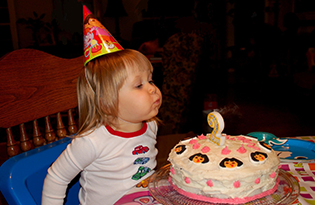 Planning a birthday party for your toddler is a blast, but it can be a lot of work, too. Much like a party for your friends, there are a number of logistical considerations you need to think about. Follow these helpful tips to plan like a pro.
Thematic Presentation

Pick a theme that is personal. If your 1-year-old loves the book "Llama Llama Red Pajama," throw her a pajama party. Or if you have a 2-year-old who loves kicking the soccer ball, throw him a soccer star party. The more personal the party theme is to your little one, the more fun he or she and your little guests will have.
Keep Them Entertained
Two-year-olds do not mix and mingle, so it is a good idea to set up a few activities or have entertainment to keep their attention. You can do everything from setting up a coloring table to hiring the music teacher from day care to perform for 30-45 minutes.
It's also nice to have entertainment for the parents who attend. If you really want to spoil them, consider hiring a babysitter or the teenager next door to help with the little ones so that they can take a bit of a break.
Party Treats
Paying particular attention to your menu is very important to ensure that there are no mishaps with food allergies or dietary restrictions. Make sure to serve toddler-size portions, and have sippy cups or milk boxes available. Serve food in paper party cups that are easy for the little ones to hold. A small cup filled with Goldfish, Cheerios and animal crackers will likely be a huge hit. And cupcakes may be an easier option for little ones to eat than working with a piece of cake, plate, and spoon or fork.
Logistics
If your little guests are still in diapers or are potty training, be sure to have a fully stocked changing area, as well as a stool in the bathroom for little ones to wash their hands. You will also want to have plenty of wipes and paper towels handy for the inevitable cupcake frosting mishaps.
Decorations and Favors
Save money and impress all of your little guests by using your toddler's toys as centerpieces. A stack of Duplo blocks or a few teddy bears in a cute basket make for adorable (and free) decorations.
When it comes to favors for a toddler's birthday party, it is important that they be age-appropriate. For instance, you wouldn't want to give your 1-year-old guests Jolly Ranchers. You may even consider not giving out any candy – the other parents will thank you. After all, you are sending their child home already hyped on cupcakes.
Making the Guest List
Be sensitive to how much people may, very innocently, talk about the birthday party. If you are only inviting close friends and family, it is best to not pass out any invitations at day care.
Also consider older or younger siblings. Will you be able to accommodate the whole family, or will you address the invitation to the child and ask him or her to bring Mom or Dad?
Sample wording:
"We hope that you and your mommy or daddy can join us for Hannah's Pink Pirate Party" or "Please bring the whole family to our morning at the park in celebration of Jake's 2nd Birthday!"
The most important thing to remember when planning your toddler's birthday party is to have fun. This is a celebration, as well as recognition that you have survived another year of this wonderful, wild ride that is parenthood.
Keep it Simple
1. Use toys as decorations.
2. Serve cupcakes for easy handling.
3. Skip the party favor bag.
4. Host the party at a neighborhood park.
5. Keep nap time when setting party time.
From Party Planning Tips for The Clueless Chick by Jennifer Durbin
CluelessChick.com
More Party Resources: 
> Local Party Entertainers + Locations
> Double Up on Birthday Fun
> Charlotte Parent loves parties on Pinterest
> Birthday Parties for Babies
> Fabulous Birthday Party Themes