Tips and Truths About Transitional Kindergarten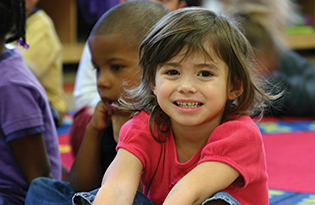 When Anne Arms' twin daughters, Mary Helen and Anne Caroline, turned 5 and she sent them off to school, their classroom looked like any other kindergarten space. Inside were attentive young faces gathered in a circle for a morning meeting, tiny bodies curled up in corners with books, eager hands feeding the two class pets.
However, this wasn't an actual kindergarten classroom. It was the transitional kindergarten room at Davidson College Presbyterian Church preschool. TK programs, which teach modified kindergarten concepts while developing children's intellectual, social and emotional skills, have become an increasingly popular option for parents. So how do parents determine whether TK would be a good fit for their child?
Determining a Right Fit
Marie Duty is the director of the Children's Academy at the Morrison Family YMCA in the Ballantyne area of south Charlotte. She says she sees many types of kids participate in the TK program, but most share a common factor – age. Some children have just missed the Aug. 31 cutoff for North Carolina Public Schools, others are age-eligible but may need time to develop academically or socially.
"The program is an ideal choice for children who need a little more time to adjust to the demands of a long schoolday and schedule, as well as those who just miss the age cutoff for kindergarten and can benefit from a more challenging academic environment," says Duty. Though schedules vary from school to school, a typical day is 9 a.m. to 1 p.m., with some including an extra hour each day to help prepare students for kindergarten.
What to Expect
Like most TK programs, the Children's Academy features smaller class size (around 15 students and two teachers), and students attend five days a week, readying them for the following year. Learning is hands-on and play-based with an emphasis on phonics, pre-writing and number sense, and activities are designed to hold the interest of youngsters. "We may wear vests with letters on the back and partner up to make a sight word or make words with lettered bean bags thrown in a hoop," says Duty. "Ultimately we are trying to foster a love of learning and get kids excited about school."
Success Stories
For Janeen Moore, TK was a natural progression for her September-born son, Bryce. Since he was a baby, Bryce had been at the First United Methodist Child Development Center, which serves the children of parents who work in center city. The program's Leapin' Lizards TK room was the next step for 5-year-olds.
In that year, Moore saw her son's handwriting and pre-reading skills improve dramatically, and he was introduced to computers, field trips and the style of a traditional classroom. In addition, Bryce was also identified as needing extra help with his fine motor skills and began working with an occupational therapist.
"By the time he went to kindergarten the following year, he was ready to go and no longer needed any extra help from the OT," says Moore.
Arms, the mother of twins Mary Helen and Anne Caroline, also sings the praises of TK. Although the girls made the age cutoff by a few weeks, they were born prematurely, and Arms – a preschool teacher with a background in working with special-needs kids – always knew that TK was in their future. "For us, it was a no-brainer," she said. "I was educated about TK, and knew how wonderful a program it was."
The twins are now in first grade, and Arms can clearly see the effects of her decision. "They went to school with such an incredible foundation as a result of the program, both academically and emotionally. They were shy kids, and going to TK, they found their voices. That extra year gave them more leadership qualities, and they have so much more confidence."
So, You Think Your Child Can Benefit
There still may be a few points to consider. One is cost: TK is typically more expensive than other preschool programs, and can run $300-$500 a month at church preschools or private institutions. As a culture, there is a widely held belief that boys are slower to mature than girls, so some TK classes can be boy-heavy. Many preschools have January informational meetings about their programs, so now is the time to look for one in your area.
Amy Salvatore Reiss is freelance writer who lives in Davidson and is the mother of two young girls – one who did a year of TK.

Related Links:
> Kinder-Evolution
> Kindergarten-Readiness Programs
> Making the Transition to Full-Day School
> A Parent Primer for Kindergarten