The Wiggles Big Birthday Tour Lands in Charlotte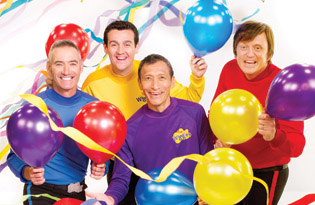 Seen on TV in more than 120 countries worldwide, The Wiggles, along with Captain Feathersword, Dorothy the Dinosaur, Henry the Octopus, Wags the Dog and all the Wiggly Dancers, bring their Big Birthday Tour to Time Warner Cable Arena July 13.
As part of the 2011 American tour, The Wiggles selected Reach Out and Read as its charity partner. Reach Out and Read and The Wiggles will work together to raise awareness about the importance of parental involvement and reading aloud to young children. In North Carolina, 88 hospitals and clinics participate in Reach Out and Read, annually serving 98,000.
We wanted to know what inspires The Wiggles before the group came to town. We linked up with with Anthony Field, The Blue Wiggle, for a Q&A.

What music did you listen to growing up?
My mother always played music in the house, both on the piano and the record player. She played everything from The Beatles to Gilbert and Sullivan operettas and musical soundtracks like "Man Of La Mancha," "Camelot." As a teenager, I got into Elvis and The Rolling Stones, who inspired my brothers and I to form a band together.

What inspires the music and songs The Wiggles creates?
We try and write about the world around a child. So while writing about eating might seem banal to an adult, we all know that mealtime is a big deal for a child. We've written songs about fruit salad and hot potatoes. We know that children learn best through play, so there are often actions for the children in our songs.

How did you come up with the name of the group The Wiggles?
My brother John had a song called "Get Ready to Wiggle," and I thought that really describes well what children do when they respond to music. They sort of wiggle around!

What's it like to entertain different cultural audiences?
While children are pretty similar around the world, there are different reactions from audiences around the world. Parents in North America will be very vocal in their appreciation, and the whole family will often dress up. You get spoiled as a performer playing in America.
We've played in China to children who didn't understand a word we said, and as soon as the music started and the characters came out, they were dancing and responding the same as most audiences around the world.

The Wiggles are partnering with Reach Out and Read to encourage parents to read with their children. Why do you think it's important for families to read together?
I have three children, and they just love having a story read to them or with them. They can do it again and again, which shows you how valuable it is to do. You can really get involved when you read a story to your child. You're also showing them that reading is a good thing. That's how they are first exposed to words and stories. As I mentioned, children learn best through play, so it's a great excuse to be able to put on funny character voices when you read.

What advice can you offer kids who are interested in pursuing music?
Music is a wonderful thing to do for fun. There are some things in life that have to stop once you are not physically able to do them, but music will be a companion and inspiration for your whole life. It can cheer you up when you're sad, accompany you as you work, inspire you to try it yourself, as it did with me.
If [a child] can learn an instrument, then that's a wonderful achievement that can be shared with so many people. If [a child] can make a career out of playing music, then that's like winning the lottery! So to any child out there interested in pursuing music, enjoy the journey and have fun!