The Technology Debate in Lake Norman Schools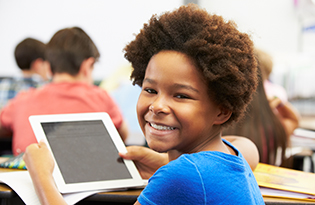 When President Obama visited North Carolina in June to talk about technology in America's classroom, it was no surprise he selected Mooresville Middle School for his speech. The Mooresville Graded School District made national headlines for its cutting edge use of technology in education. But, what are other Lake Norman area school policies on technology and devices in the classroom?
Recently, select schools in the Charlotte-Mecklenburg School District (CMS) began participating in the Bring Your Own Technology (BYOT) initiative and Cornelius Elementary was one local school selected. But not all Lake Norman schools are following suit. Though educators see the benefits of technology in the classroom, there are still some concerns when it comes to personal devices and technology access
Pros and Cons
Iredell-Statesville Schools are choosing not to allow personal technology devices in the classroom this year. David Blattner, executive director of technology and media services at Iredell-Statesville Schools knows technology is a valuable resource in the classroom.
"The Board of Education has supported technology being available in the schools with the introduction of student laptop carts at all schools," Blattner states, "as well as wireless internet capabilities at all school sites providing access to technology resources to all students."
When students are using a device issued by the school, explains Blattner, they are on the school's secured network where inappropriate websites and applications can be blocked.
Evidence shows students bringing personal technology devices to school can be beneficial. CMS has had great success with their BYOT initiative and chose Cornelius Elementary School to test the program. Principal James Garbin is a proud supporter of the initiative and so is the PTO (Parent Teacher Organization). They raised money to purchase 60 iPads for student and teacher use. In line with BYOT, students at Cornelius Elementary are also allowed to bring their own devices to enhance learning and research.
Access for Everyone
What about the students who don't have access to all this great technology when they leave the classroom? Garbin does not think the students without access have a disadvantage.
"When an assignment calls for the use of technology, [the teachers] make sure there is time available during school for them to get their research done," explains Garbin. CMS plans to assess the results of BYOT in the 21 schools currently testing the initiative and then roll out a plan to incorporate the rest of the district schools if it is successful.
Reducing Risks
The fact is, no one teacher can keep an eye on each student's screen when personal technology is in use. In a perfect world, all students would follow the rules, be focused on the assignment and would only go to appropriate websites. However, this is not a perfect world and disciplinary policies need to be in place if and when students go astray.
Blattner puts it this way, "I believe that if we were to introduce personal devices into the network, the majority of students that could afford to bring their own devices would utilize them for educational purposes. I also realize that we are working with kids, who are going to try and do things that they shouldn't. Unfortunately, I need to plan for [students] that would cause mischief and without proper network security, the risks are too high."
On the flip side, there have been great success stories such as Mooresville Graded School District, which outfitted each school with enough laptops for every student. An article in the New York Times states that the Mooresville Graded School district's graduation rate has risen from 80 percent in 2008 to 91 percent in 2011. They have also seen an increase in attendance and are now placed third in North Carolina in test scores and second in graduation rates.
Benefits of allowing for personal technology in the classroom include easier access to resources for research, an appeal to a broader range of learning styles, and with technology so prevalent in the workforce today, it would better prepare students for their futures.
Though no one can ignore the benefits, until all the kinks are worked out, it looks like children's personal technology devices will be staying safe at home for Iredell-Statesville Schools.
Kim Holder, a second grade teacher at Lake Norman Elementary agrees the policy must be approached with caution.
"iPads would be great for the future because most small children can navigate so well. They have no fear. We just have to be careful about inappropriate websites and links."
What's In/Out in LKN?
Iredell-Statesville Schools
Elementary school students are NOT allowed to possess any type of personal wireless communication device.
Middle and high school students may posses a wireless communication devices and may be used during the school day as allowed by school administration.
Mooresville Graded School District
Students are not allowed to display or use cell phones or any other electronic devices on during school but may use devices that are provided through the school district.
Charlotte Mecklenburg School District
Students may possess a personal technology device, which includes cell phones, laptops, e-readers and tablets as long as they are off and put away during school hours and on the school bus. With approval of the superintendent, the devices may be used for education purposes.