The First 2,000 Days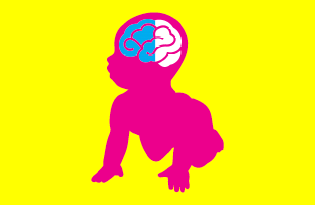 Studies show that strong connections formed in an infant's brain during her first 2,000 days – the amount of time that passes between a child's birth and her first day of kindergarten – will inform her life and educational experiences as she prepares for that first day of school.
That's why the North Carolina Early Childhood Foundation launched the First 2,000 Days campaign, funded by the Z. Smith Reynolds Foundation and the Community Foundation of Western North Carolina, and supported by organizations across the state – from Durham's Partnership for Children to Kindermusik in Greensboro and Levine Children's Hospital in Charlotte.
According to first2000days.org, these crucial days of a child's life are when brain architecture is forming, creating either a strong or weak base for all future learning. "Babies are born with more than 100 billion nerve cells in their brains. These neurons must connect and communicate with each other in order to form the circuits we ultimately need to think, learn, and succeed – something neurons do at a remarkable rate during in the first five years of life," says Maria Shaheen, executive director of Early Childhood Education at Primrose Schools. "A high-quality education helps students reach their full potential by actively and purposefully stimulating developing brains during this critical time."
Child development is a dynamic, interactive process that is not predetermined, according to first2000days.org. It occurs in the context of relationships, experiences and environments. Children need good health, strong families and high quality early learning and school experiences to graduate from high school and grow into productive citizens and valuable employees.
James Provenzale, a professor of radiology at Duke University's School of Medicine, compares a child's brain development to the process of building a house. The foundation of a child's brain is mostly formed before birth, he says, and a host of connections among neurons are made during the first few years of a child's life.
"If the house is already on a bad foundation, we can only go so far with it," Provenzale says. "Education plays a very important role."
Provenzale's colleague, Dr. Mohamad Mikati, chief of pediatric neurology at Duke Children's Hospital and Health Center, agrees, saying early childhood education intervention results in "an improvement in cognitive skills, IQ, language. A lot of skills improve if you intervene."
SEE ALSO: Browse 200+ Local Preschool Options
Community Connections
Durham's Partnership for Children works to empower parents to be their child's first and best teachers, but Executive Director Laura Benson says communities share the responsibility, as well.
"School readiness is everyone's business," Benson says. "In the long-term, supporting early childhood initiatives has economic, safety and health benefits for everyone. Everyone wants to live in a thriving city."
Preschools are also jumping in to provide school-readiness programming. "At Primrose, our exclusive Balanced Learning curriculum blends teacher-guided and child-initiated learning activities with a special emphasis on character development to build the right foundation for active minds, healthy bodies and happy hearts in the first five years of a child's life," Shaheen says.
Mikati says numerous studies have shown that the benefits of teaching parents how to care for their children can impact generations, and that $1 invested in early childhood education can net $7 worth of value in returns to society.
"It comes down to what everybody already believes," Provenzale said. "You have to show a kid love."
To learn more about the First 2,000 Days initiative, and volunteer and donation opportunities, visit first2000days.org.
Elizabeth Poindexter is the marketing coordinator for DurhamCares, an organization that encourages residents to love their neighbors and invest in their communities.
 Read more:


View all articles from the 2014-15 Education Guide