The Fine Art of Consignment Shopping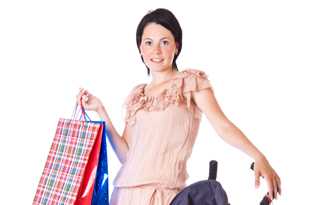 I am always bewildered when I meet someone who hasn't been introduced to the fine art of consignment shopping. Years ago when I was working in the "corporate world," consignment shops were my best kept secret. I always dressed to the nines in top designer outfits, most of them purchased from consignment shops. In fact, many of the items I would purchase were barely worn or still had the original price tag on them. I used to pity the gal who thought I spent thousands on my wardrobe. However, every once in a while I would share my little secret.
Now, its 13 years later and I am a mother of two, and those designer duds have been eagerly exchanged with maternity wear, onesies and now (sigh) clothes for a tween. Consignment shops have been a way of life for me, and I am proud to announce my bargains to all who care to listen. Not only are consignment shops a great source for finding items to purchase, they are a great source of additional income if you want to unload any of those gently used items, games, toys, DVDs, clothes and accessories that the kids just "had" to have and then barely touched once they brought them home.
For those of you who aren't familiar with consignment shops and how they work, it's quite simple. Consignment shops carefully inspect items and accept only those that they think are saleable. They do all of the work, including display, storage, ticketing, sales and merchandising. When your item sells, they pay you a percentage of the sale.  It's that simple. It's common for you, the consignor, to receive about 40 percent of the sales price of your item. Not bad, considering all you did was bring it to the shop. If you are thinking of consigning some items, be sure to call or stop into the shop to find out what sort of items they take and if they have any specific times that they accept items.
For shoppers, consignment shops are a bargain hunter's paradise. Most consignment shops seek out only clean, quality, brand name clothing and items.  The best part for me is the thrill of the hunt and the find!  Since most stores receive new merchandise daily, you never know what you are going to find. You may find a great Halloween costume one day and a party dress the next; so, it's smart to frequent them often. If you see something you like, you better grab it quick, because the odds of that fantastic item being available the next day are slim to none.
Consignment shopping is now more fashionable than ever. With the "Going Green" movement and the idea that recycling is the only way to go, more and more people from all walks of life, regardless of income levels, are finding the true value in consignment shops.
As for me, the excitement of consignment shopping is still about the hunt and the find.  I love not knowing what I will discover on my next shopping excursion. I may come up empty handed or find that one item I have been searching for forever. Usually, I come home with something "new" to me that I proudly claim as my new treasure. If for some reason I change my mind about it, as we girls often do, I simply consign it!
Kara Ferraro is a publisher and freelance writer with two elementary aged children. She is always looking for clever, budget friendly activities to do with her family and ways to save money.?