The Father-Daughter Connection – Working on Self-Worth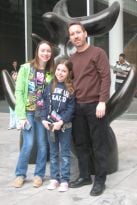 Ashleigh decides to wear her pink-and-yellow polka dot skirt, because it shows off her tan legs. She hopes Josh, the cute boy in her math class, will notice. Her dad certainly did, as he glanced up for a moment from reading the morning newspaper when she bounced down the stairs. But he figured if her mom had approved the mini skirt, then why bother making her go back upstairs to change and risk starting an argument. Ashleigh grabs her cell phone before heading out the door and takes another look at the cool "model-type" photo she took of herself last night on her bed. When she and Sarah get dropped off at the mall after school, she wants to show it to the guy who works behind the counter at Starbucks. She wonders if he'll agree to meet her at the baseball field on Friday night.
Ashleigh is 13, but she easily could pass for 16, given the clothes and makeup she wears. Her mother sighs and shrugs her shoulders, and her father wonders where his little girl went.
All parents have cause to worry. Girls as young as 8 are trying to look 16 and are feeling the pressure to look and act hot. According to consumer research by the NPD Group, tween beauty queens (girls 8-12) spend $500 million a year on body sprays and lip products. And the American Psychological Association now confirms the proliferation of sexualized images of girls and young women in advertising, merchandising and media is harmful to their self-image and healthy development.
The "sexy-girl syndrome," according to Dr. Eileen L. Zurbriggen, who chaired an APA task force on girls' sexualization, skews what preteens and teens feel valued for. In an article that appeared in Family Circle, Zurbriggen says their minds become full of worries about how they look and what other people are thinking about them, instead of whether they're smart or funny, kind or talented.
Fathers, in particular, have the ability to counteract today's aggressive marketing of sexuality and speak louder and clearer to their daughters about their self-worth, says Dr. Meg Meeker, a pediatrician and the author of "Strong Fathers, Strong Daughters" (Ballantine Books, 2007). She encourages dads to open their eyes to their daughters' world and protect their minds and bodies.
Staying Involved
Fathers' attention, guidance and instruction are crucial to keeping young girls from developing an identity solely based on sexuality and helping them grow into confident women, who have a strong sense of self-worth based on their intellect, interests and talents.
Royce Willmschen of Raleigh says he's very intentional about staying connected with his 9- and 12-year-old daughters. "I make sure we have time to talk one-on-one. I walk to the bus stop every morning with Claire, my 9-year old, and I usually have dinner once a week with Natalie, my 12-year old, while my wife and Claire are at dance rehearsal." He adds that in addition to attending all of his daughters' activities – basketball, dance, piano and theater – the family also sits down together several times a week.
Kevin Chelko of Huntersville is the father of Christopher, 21, Amanda, 16, and Maddi, 11. "As Chris was growing up and going through all the typical boy stuff, like camping and hiking and sports, the girls got dragged along for the ride," explains Chelko. "These type of activities, normally thought of as male, now just seem to be part of the norm for Amanda and Maddi, and that keeps me involved in their lives a lot more than if they were only into the fru-fru girly stuff."
Chelko adds that he tries to support each of his daughters in their interests. "They have their own special activities they like to do with Dad. Amanda likes to hike and camp, and Maddi is more into basketball, softball and volleyball."
Knowing Their Inner Circle, Emphasizing Self-Worth Not Image
But beyond what's going on at home, fathers should remain connected to what's happening in their daughters' wider world. Chelko says it's important to be involved in your daughters' lives on a daily basis, even as they are gaining the privilege of independence.
"Know who their friends are, where they are going and with whom," says Chelko.
Dads should show interest in the movies and music their daughters like, and talk with them about the messages that are coming across. And, paying attention to what fashions girls are wearing presents dads with an opportunity to talk about why they agree, or don't agree … and what boys think about such clothes.
Greg Fiorentino of Apex says he tries to stay up to date with his daughters' school and social lives. "We monitor their social communications via Facebook and e-mail by checking their accounts once in a while and making sure they only are communicating appropriate information and materials." He often tells his daughters – Rebecca, 16, and Grace, 14 – that what is important is not how they look, but what they feel on the inside, and emphasizes that he loves them regardless of what they're wearing.
Inviting Dad-Daughter Discussions
"Peer pressure is the No. 1 thing I worry about as a parent," says Chelko. "It is very powerful and can easily influence girls, who seem to be all about what others think." He says he talks with both his daughters about the importance of a healthy sexual relationship between two mature adults in contrast to what happens when a teen becomes sexually active and then the relationship ends. Chelko says they talk about the negative feelings, harsh words and hurtful rumors that often get spread.
Willmschen says that although he tries to create a home environment that will counter the need for his daughters to find self-worth from outside sources, he admits he hasn't talked with his daughters enough about peer pressure and sex. "My fear is that they will unintentionally put themselves in situations where they attract the wrong kind of attention, and they won't be able to handle it properly."
Because young girls don't have the intellectual maturity of adults and can be easily seduced into trouble, Meeker says it's parents' responsibility to set rules and vigilantly protect them … against themselves, as well as others. Talking about sex is essential, and it's important, too, to give teen girls permission to call home and ask Dad for help – perhaps without any questions asked – if they find themselves in a dangerous situation.
Fathers are perfectly suited to talk with daughters about respecting themselves and their bodies and waiting until they are older. Dads not only were teenage boys once themselves, but they've also "been there, done that," and they know what goes on inside the hormone-driven male mind.
With Hollywood, the media and social networking Web sites vying for girls' attention and values, Colin Pinkney, a Charlotte father of six children (four of whom are girls, ages 21, 17, 10 and 7), says fathers must invest in their daughters and fight against today's sexual culture. Spend the time, stay involved and secure a strong father-daughter bond through open communication.
"It's a war worth waging," says Pinkney, "and whoever makes the biggest investment wins – whether it's MySpace, YouTube, or you, her dad."
Editor's Note: To read more about dads and daughters, find part one in this series that ran in our February issue online at www.charlotteparent.com/Articles/Archives/ArchiveArticle.aspx?cid=767&aid=767.
Lee McCracken is an associate editor with Charlotte Parent magazine.