The Experts Dish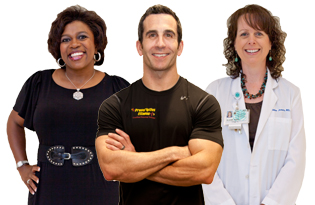 Our Fit Family Challenge experts share their inspirations for family fitness, nutrition and balance.
Paul Sklar
Fitness Expert
Occupation: Co-owner Prescriptive Fitness
What do you do with your family to stay healthy?
We take bike rides, set up obstacle courses in the backyard, go to the Y for structured and fun workouts, swim and hike. My wife, Sandy, is also a personal trainer and co-owner of Prescriptive Fitness, and we workout together all the time. The body craves movement, and when it doesn't get it, the outcome is not great. If you can teach your children to be aware of their health and fitness from an early age, they will keep it forever.
What is your favorite fitness activity?
I truly enjoy weight and resistance training. Weight training completes the fitness puzzle and not only helps you feel strong, it makes you look great.
What's your best advice for busy parents?
Let your children see you exercise and take pride in your own health and fitness. Then let them join you. If you lead by example, chances are your children will follow. The apple does not fall far from the tree.
Can you share a healthy family success story?
At the age of 40, one of the greatest fitness moments I had with my family was watching my sons Jake, 8; Ryan, 10; and Harrison, 12, run their first 5K without any formal running training. They all ran amazing, finishing in the top five in their age group; and no one stopped once. We all ran as a family, including my wife, Sandy, and our 7-month-old boy. The look of excitement in their eyes, and the feeling of accomplishment they possessed when they finished was priceless and something we will all keep forever.
Kim Jacobs
Balance Expert
Occupation: TV talk show host for the show "Daily Balance with Kim Jacobs."
What do you do with your family to stay healthy?
We do "Just Dance" and "Zumba" on the Wii.We have a ball dancing around the house and it is truly a workout if you do the moves properly. We also play basketball together, jog or walk as a family. My older son, Frankie, is really big on counting calories, so he constantly reminds us that we shouldn't eat certain things. He has lost approximately 25 pounds through eating properly, exercising daily and counting calories.
What is your favorite stress buster?
Zumba! I also go to the movies with my husband.
What's your best advice for busy parents?
Parents must identify what triggers them to feel drained and exhausted, and then put a specific plan in place to limit those triggering sources. Write a priority list of things that must be accomplished daily, and compartmentalize as much as possible to limit constant spillover.
Can you share a healthy family success story?
In 2010, I committed to changing my health. I started jogging three miles a day, which was intense for me, but I did it. I lost approximately 20 pounds between 2010 and 2011. I ran my first 5K at the Lowes Motor Speedway, and finished in 35 minutes. This year I ran it again and my husband, Frank, and our son ran, too. My son finished before us, but I finished before Frank. That caused a lot of discussion for that day.
Elaine Jones
Nutrition Expert
Occupation: Clinical Nutrition Manager at Carolinas Medical Center-University
What do you do with your family to stay healthy?
We plan meals together, and I get my [three teen] boys to assist with the meal preparation as often as possible.  I have found they are more likely to try something different or healthy if they have helped prepare the meal. We enjoy going on walks and hikes and have recently taken up kayaking.
What is your favorite healthy snack?
I love my homemade trail mix. I mix dried cranberries, cocoa covered almonds and a mixture of whole wheat, corn and rice Chex cereals. One serving includes one tablespoon dried cranberries, 10 almonds and one-half cup mixed cereal for 250 calories.
What is your advice for busy parents?
Pick a day of the week and make it a habit to plan a week's worth of meal ideas together. Then make a shopping list and make sure to have all of the items you need on-hand. Write out your meal schedule so everyone knows the plan. If your schedule changes during the week, you can pick the meal that takes the least amount of preparation time. You won't have to feel compelled to get fast food because you already have meals planned.
Can you share a healthy family success story?
I have become very interested in eating mainly fruits, vegetables and grains as a source of prevention for the heart disease that is hereditary in my family. As a lover of chicken and fish, I didn't know how I could ever plan a meal without one of the basic animal proteins. I gradually started eliminating them from my meals, and found I was enjoying a wider variety of whole foods. I feel healthier than I have in years.