The Emotional Building Blocks of an Adoptive Family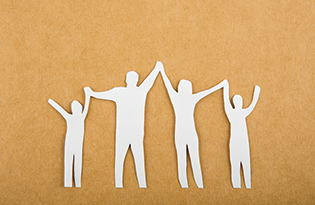 Starting an adoptive family is essentially the same as creating a biological family: It starts with a whole lot of love, high hopes and strong expectations. Brought together through luck, planning or fate, the beautiful patchwork of an adoptive family can shine and inspire like a close-knit family made through genetic ties.
While there are special concerns about planning an adoptive child's emotional and psychological future, one of the most helpful strategies is to treat your child exactly as if he or she were your own biological child. Once you become committed to raising an adopted child, following are a few key issues to consider as an adoptive parent.
No exceptions. All families thrive best when there is a nice mixture of nurture and expectations, of love and structure, and of caring and growing together. This may sound simplistic, but when families make exceptions for their adopted children ("Aw, we should not push her since she's adopted" or "Aw, he cannot help himself since he is adopted"), trouble usually follows
Talking about adoption. Preschoolers need just to simple facts: You are ours, you are adopted and we so love you! In elementary years, more detail can be shared, but be careful about going overboard. Your child doesn't need to know the details of your failed infertility work-up or the reasons their biological parents were unable to raise them. Continue to affirm the truth of the adoption, how wonderful it is for all of you and how glad you are that you are a family.
Tackling the past. In domestic adoptions and foster-care adoptions, there are many complexities of a child's past, sometimes interactions with birth parents or biological parents. These situations often lead to tangled issues that are best addressed with professional counselors and other help. Affirming your love and intent to be the new and steady parent, the "forever family" for the child, goes a long way to soothe these patches of uncertainty and questioning in an adopted child's life.
Creating family bonds. There is the potential for an adopted child, especially an older child, to have difficulty bonding, creating a condition known as reactive attachment disorder. A child suffering RAD can have difficulty learning to love and trust a new parent. Training on how to recognize and get help for RAD is available for adoptive parents. Fortunately, this is actually quite rare in children adopted before age 2 or 3.
Just like a biological child, an adopted child is most content if you keep upward momentum going with your child by having a vision for his future and keeping in close touch with his day-to-day life.
Anne E. Walker, MD, is an international adoption consultant and practices general and adolescent pediatrics at Novant Health Walker Pediatrics in Midtown Charlotte. She and her husband, Tim Shelton, are parents of three children they adopted from Russia.
Related links:

FAQs about Adoption

When is it right to talk adoption with my child?

Factors to Consider Before You Adopt