The Benefits of Single-Sex Summer Camps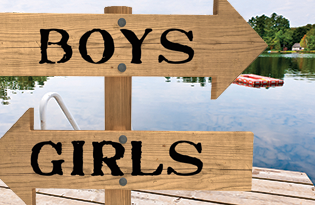 Much of the stress that children and adolescents (and grown-ups!) experience stems directly from their relationships with people of the opposite sex. As the pressure to be popular, mature and independent increases, anxiety levels can skyrocket. Spending a week or two without that stress may be just what your child needs to regroup and recharge this summer.
When you're weighing the pros and cons of summer programs this year, you might want to consider the benefits of a single-gender camping experience. According to experienced summer camp directors, the benefits of single-sex programs can be summed up easily.

Appearance
At single-sex programs, you'll find little to no emphasis on fashion, makeup and outward appearances. Instead of worrying about whether they'll find a summer sweetheart, campers can focus on building friendships and learning new things about the world and about themselves.
"They are a lot less preoccupied with how they look and act, allowing for a greater freedom to be themselves," says David Bruce, CEO and manager of Camp Rockmont for Boys.

Behavior
There's no doubt about it, camp experts say, campers act differently at single-sex programs.
Bunny Brown, former director of Skyland Camp for Girls, is a strong supporter of the single-sex camp experience. In her experience, campers feel more at ease without members of the opposite sex around. "Our skits, poem competitions, costume nights and off-campus trips would not be the same with male companions," she says. "The girls are free to be silly, emotional and creative in their own female way."
Adam Boyd, director of Camp Merri-Mac for Girls and Camp Timberlake for Boys, explains that single-sex programs allow girls and boys to enjoy themselves without worrying about whether they look silly. "At 16, [the boys] dress up like Indians, stand on benches to sing and get really excited when we have ice cream sandwiches for dessert. I don't think that can happen if they are trying to impress girls," Boyd says.
Laurie Strayhorn, director of Camp Illahee, an all-girls program, agrees: "I think that a single-sex experience takes away some of the elements of peer pressure and trying so hard to fit in. For girls, it allows them to pursue more adventurous activities and to be stronger leaders without feeling self-conscious or distracted by boys."

Confidence
At a time when many young people are constantly second-guessing themselves and worrying whether they'll ever measure up, a positive summer camp experience can bolster a flagging sense of self-confidence. Some argue that single-sex programs are better equipped to do this than their coed counterparts. "We all hate to fail," says Boyd, "but children are especially afraid of failing in front of their parents or in front of the other sex. Single-sex camping removes both and allows children to try things they are pretty confident they'll do poorly in."
Brown, too, credits the single-sex experience with confidence-boosting powers. "Girls learn to address who they are and what they want to be, and they learn leadership in their own right. This experience develops confidence, security and self-esteem."

Drawbacks?
Coed programs give campers a supportive environment in which they can explore positive relationships – with girls and boys – and learn to overcome feelings of shyness, anxiety and peer pressure. In an ideal coed experience, closely supervised by well-trained staff, this can be a powerful learning experience. By comparison, single-sex programs may seem overprotective.
The bottom line is that young people benefit from a mixture of both kinds of experiences – single-sex and coed – and, since most have plenty of coed experiences at school, summer camp affords an excellent opportunity to test the single-sex waters.
Before you sign your son or daughter up for a single-gender summer program, make sure he or she is on board with the idea. As Brown explains, she and her staff have always relied on parents to make sure campers are ready for the experience. "If a girl cannot live without talking to, emailing or writing to a boyfriend every day, she does not need to come to camp. She will not fully involve herself in camp activities and will waste her time and her parents' dollars."
Do campers miss the company of the opposite sex? Sure they do. But almost all of them also recognize the benefits of the time apart. As Strayhorn says, "Our campers talk a lot about boys and missing their boyfriends, but they all enjoy their girls' camp community and having the break from the coed pressures that they feel."
---
Cathy Ashby is a former summer camp counselor and administrator.