The Benefits of Arts-Based Summer Camps
An arts-based camp may be just what your child needs to balance out, or further enrich, his or her developing brain.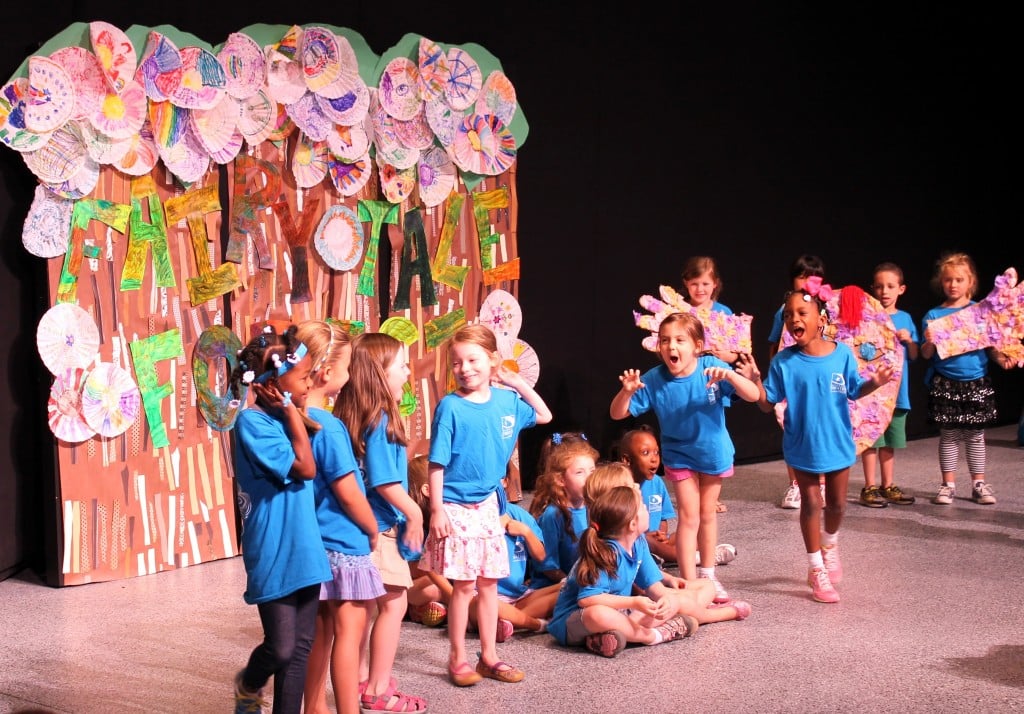 Whether you're raising an artist, mathematician or athlete, an arts-based camp may be just what your child needs to balance out, or further enrich, his or her developing brain. A recent Harris Poll revealed that 93 percent of Americans consider the arts to be vital to providing a well-rounded education, and a critical link to learning and success. Research shows that arts-based education can wire the brain for creativity in ways we are only beginning to understand.
When it comes to shaping young minds, arts-based camps have become an essential piece of the puzzle. Charlotte claims a variety of exceptional arts programs and summer camps from visual arts and dance to theater and music. With so many choices, deciding which dream to chase may be the toughest decision your young camper has to make.

Summer Brain Boost
Whether it's music, drama, dance or painting, summer arts camp activities can stimulate young minds with new concepts and skills, as well as lessons about art and art history.
Research shows that music and dramatic play enhance comprehension and multisensory skills, and hands-on art encourages creative exploration and self-expression, skills useful in many aspects of life.
"Art stimulates young kids' imaginations," says Jennifer Bryant, owner of Small Hands, Big Art that hosts summer arts camps for children 4 and older.
"A lot of things in camp require (campers) to make something out of nothing," says Bryant. By using upcycled materials, campers at Small Hands, Big Art stretch their imaginations and problem-solving skills to create a new piece of art.
For children that are head over heels for a specific art form, arts camps give them an uninterrupted amount of time to strengthen their skills and nurture their talents, time they may not get during the school year.
"It gives them a chance to not forget everything from school year ending and school year beginning," says Jennifer Frisina, director of band orchestra camp at Community School of the Arts. Community School of the Arts offers various music camps, as well as visual arts classes and camps. Camp participants also get more structured, detailed instruction in small group sessions that they might not get in a large school setting, something Frisina says campers repeatedly mention in end-of-camp surveys that they like.
Even if your child is not a budding young artist or passionate about plays, a creative summer camp experience may be a good option for your child, with many benefits. Studies show that children of all ages have improved reading skills and comprehension after reading dramatic plays; and older students who participate in the arts perform better on standardized achievement tests than students with low arts involvement.

Social Perks
The California Alliance for Arts Education recently asserted that arts education helps students become globally competitive by developing their abilities for innovation, communication and collaboration.
Art becomes another way for children to express themselves, says Bryant. "It's almost like finding another way to communicate."
By encouraging communication with new friends and expression of emotions through dramatic dialogue or art creation, participants in arts camps can gain a big confidence boost, which can in turn be beneficial in how they communicate at home, school and with other adults.
Participants in arts camps often work collaboratively to create projects, which teaches negotiation skills. "They learn to work through creative differences, compromise, and learn that they can collectively create something great," says Bryant.
By interacting and working with a different peer group, children also learn an appreciation of different perspectives. They observe how other kids create different kids of artwork based on the same instructions, says Bryant. "It helps them be open to different interpretations, and that [different] doesn't make you wrong."
At the band orchestra camp at Community School of the Arts, children have the opportunity to play with other children from public and private schools throughout the region. "For home-schooled kids or those who only take private lessons, it's a chance for to play as a group, and interact with other kids who share the same interest," says Frisina. "Many form friendships and look forward to seeing their camp friend next year."
Children's Theatre of Charlotte provides theatrical art experiences that foster creativity and confidence in children of all ages. In partnership with the ImaginOn library, Children's Theatre of Charlotte offers summer camps for children ages 3-18. The program also operates two satellite sites at Charlotte Latin School and UNC Charlotte.
The half-day, themed early childhood camps focus on stories, drama, art and creative play. One popular program called "Podium" encourages preschoolers and elementary-school age children to introduce themselves and share a few facts, such as their favorite color.
"These children may be hugging their mom's legs on day one at the beginning," says Michelle Long, director of education for the Children's Theatre of Charlotte. "It's really exciting to watch them transform and gain some confidence."

New Discoveries
For the child who exhibits an interest in dance, doodling, singing or strumming a guitar, an arts camp can be a time to nurture an underlying talent.
"Kids are so constantly stimulated, literally sitting watching something mindlessly coming at them," says Bryant, "but when creating art, they have to rely on themselves to create something and to keep themselves engaged and from being bored."
Arts camps also provide a chance for children to explore what happens behind-the-scenes in various performance arts. A child who enjoys singing and dramatic play might develop a talent for stage performance, or rather discover a passion for stage and costume design.

Shining Stars
Many arts camps culminate in a full-scale production at the end of the session. Campers at Children's Theatre of Charlotte perform for family and friends at the end a weeklong camp, giving the children a chance to show off what they've learned and feel a sense of accomplishment.
This feeling of accomplishment isn't limited to performing arts. Many camps that focus on visual art or mixed media, including painting, pottery or photography, send campers home with one or more finished projects to keep, fulfilling a sense of achievement and completion, as well as a newly found form of self-expression.
"They learn to follow through and finish a project," says Bryant. "They are proud of themselves, and can't wait to show off and leave with something tangible to keep and remember and share."
For a list of arts-based camps in the Charlotte area, click here.
Carol McGarrahan is a freelance writer in the Triangle.

---
DID YOU KNOW?
Young people who participate in the arts for at least three hours, three days each week for one full year are:
• Four times more likely to be recognized for academic achievement.
• Four times more likely to participate in a math and science fair.
• Three times more likely to win an award for school attendance.
• Four times more likely to win an award for writing an essay or poem.
Source: Shirley Brice Heath, a Margery Bailey Professor of English and Dramatic Literature, Emeritus; and Professor of Linguistics and Anthropology at Stanford University.