Texting While Driving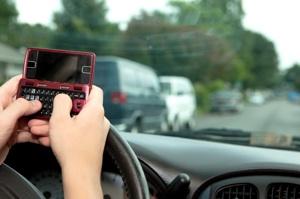 Due to the recent passage of the texting while driving ban, there has been a great deal of conversation across North Carolina about this dangerous habit and what's being done to curtail it.
North Carolina isn't the only state where this issue is making front-page news. The Tarheel State is the seventh this year to pass a texting while driving ban, bringing the total number of states with such laws to 14.
Recent accidents that made national headlines have called attention to just how dangerous texting behind the wheel can be. National concern has risen to the point that the U.S. Secretary of Transportation Ray LaHood recently held a Distracted Driving Summit, which called together transportation experts, safety advocates and members of Congress, with the goal of developing a list of "concrete steps" toward reducing distracted-driving accidents.
A DOT official stated at the opening of the summit, "Teenagers are already at a greater risk and are more likely to suffer severe injury when using a handheld device while driving." Research shows that approximately one in five drivers admit to texting while driving; however, when the question is posed to 16- to 19-year-olds, the percentage leaps to an astounding 70 percent.
In North Carolina minors had already been banned from using cell phones while driving but that was rarely enforced. The recently passed statewide ban on text messaging for all drivers will call more attention to the issue.
The law, which goes into effect Dec. 1, carries a $100 fine; however, many are questioning whether residents will take the ban seriously. It is difficult for officers to catch violators, and motorists might not be deterred by the fine, which some say isn't severe enough.
In California, where the fine is $20 for a first time offense and $50 for subsequent offenses, research indicates that in-vehicle text messaging has declined about 70 percent, indicating that a ban can change driving behavior and improve safety.
Behavior change is critical because although Americans – who are hardwired to multitask – realize that texting while driving is dangerous, they continue to do it. In an American Automobile Association study, 95 percent of respondents understand that texting while driving is dangerous and unacceptable, but 21 percent said they had recently texted while driving. This leaves safety proponents and parents of teen drivers asking the same question – how do we change this behavior? Here are a few suggestions:
Influence Your Teen Driver
Set a good example by being a safe driver yourself and make sure your teen understands how dangerous distracted driving can be. A public service announcement from the United Kingdom, which can be seen on the B.R.A.K.E.S. website, has become an Internet sensation used by many parents to drive home the point that texting while driving can be deadly. Due to its graphic nature, the PSA isn't for everyone, but there are plenty of other ways for parents to encourage their teen to drive without distractions.
Continue Your Teen's Driver Education
When asked in a recent CNN interview about the dangers of texting and driving, Michael Sinclair of The Automobile Club of New York stated, "It all comes down to the fact that we have very poor driver training. You have bad young drivers that become bad adult drivers…. Education is the key." There are opportunities for further training for your teen. Find out what options are available in your area. The more hands-on experience they have, the better they'll be, so remember to continue to educate your teen in their first years of driving.
Get Behind the Cause
There are individuals and groups fighting to further curb texting while driving. AAA is working to pass laws banning texting by drivers in all 50 states by 2013. Also, four senators, including Kay Hagan of North Carolina, recently unveiled a bill for a nationwide ban on texting while driving for car and truck drivers and operators of mass transit. If you're concerned about this issue, research what is being done and find out how you can show your support for stricter laws and harsher punishments.
Author Doug Herbert is an NHRA Top Fuel drag racer and the founder of B.R.A.K.E.S., which stands for Be Responsible and Keep Everyone Safe. To learn more, please visit www.putonthebrakes.org.