Teenage Depression or Typical Teen?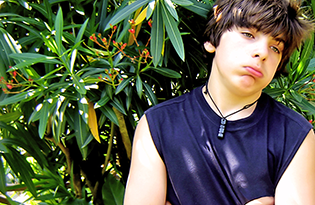 Today's teenagers often get a bad rap about being unmotivated, isolated or wanting to sleep all day. They also carry stressful burdens that previous generations can't relate to. Plus, adolescents' physical bodies have demanding needs during the transition to adulthood (for example, teenagers should sleep more than young children and adults). Add each part of the equation and it's easy to see why parents have a difficult time knowing whether their teen's behavior qualifies as typical teenage moodiness or clinical teenage depression.
Teenage depression is common and seems to be on the rise. According to TeenageDepression.org, approximately 20 percent of teens experience an episode of depression before reaching adulthood, with each episode lasting about 8 months.
Straightforward symptoms of teenage depression include tearfulness, sadness, crying and feeling hopeless. These symptoms most commonly present themselves in females. Males demonstrate more irritability, anger and frustration and are often mislabeled as aggressive.
As outsiders looking in, parents should also watch for more severe warning signs: changes in eating and sleeping habits, dropping grades, a disintegrating social life, plummeting energy levels, increased fatigue, unusual disconnect and isolation from family, and increased substance abuse.
As a parent of four children (two being teens), I can spot at least one straightforward sign of depression around my house each day, but the days following are almost always filled with rebounded joy and jubilation. The tried and true test to knowing whether a child or teen needs medical attention for depression is if symptoms present a persistent pattern of behavior. And the only way to correctly identify the abnormal is by knowing the ins and outs of each youth's "normal" — it's all about communication.
Coincidentally, communication is also the first step toward helping a teen overcome depression. Pick an adult who has a healthy, positive relationship with the teen — if not a parent, try a teacher, counselor or church leader. Then, arrange for the pair to have a safe, nonjudgmental conversation, encouraging the teen to express his/her feelings. Realize that the process may take days or weeks but is well worth the effort.
Once the teen opens up, have the adult and teen meet with a trusted pediatrician or family physician. The practitioner will ask the teen questions, and the adult can contribute another layer of information and perspective. Next, the physician will make suggestions, which could include anything from testing for anemia, thyroid issues or mono, to psychotherapy or antidepressant medication.
Regardless of the treatment path, active, nonjudgmental listening and open communication between teens and parents is always suggested. In fact, prioritizing talk time can help in every aspect of teenage depression — preventing, identifying and overcoming. So, whether it's typical teenage moodiness or clinical depression, be sure to talk about it.
— Mark Collins is a family practice physician at Cotswold Medical Center-Arboretum.