Teaching Kids Eco Responsibility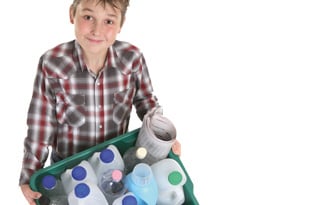 Most parents agree children need to be charged with some form of personal responsibility to instill independence and problem solving skills. On top of the worthwhile burdens of household management, homework, healthy meals and daily dramas, where do we find time to consider which tasks our children can confidently under take?
One not-so-obvious answer is sustainability. Whether you feel being green is a fad or here to stay, sustainability is an fantastic opportunity to put your children in charge of that "something" they require to feel confident in their household contributions. Putting your children in charge of your household's green agenda builds knowledge and good habits for kids, as well as parents.
Children are like our own personal 50 gigabyte key drives. They remember everything, "Mom, you promised!" or, "Dad, you said I could!" Put those young minds to constructive use by charging them with the important role of Eco Police.
When you put your little officers to the take of  upholding Mother Nature's laws in your kingdom, their duties can include:
• Choosing reusable fabric napkins at the store and making certain they are always used at dinnertime in place of paper napkins.
• Refolding any paper napkins or paper towels that are only slightly dirty for use a second time.
• Choosing their own personal reusable lunch bag, rather than using disposable paper bags.
• Placing a large mixing bowl in the sink when washing fruit and vegetables to capture good tap water for watering house plants.
• Switching off the faucet when brushing teeth.
• Making certain all the light bulbs in your home are energy efficient.
• Turning off lights and electronics in unoccupied rooms.
• Choosing board games or playing outside, instead of watching television.
• Learning to read and operate the thermostat to help the family conserve energy by not overly cooling or heating the house.
• Checking labels at the grocery store to determine if your food is organic or produced closer to home.
• Recycling aluminum, plastic and paper, and carrying the bins to the curb on garbage day.
• Making certain cell phone chargers aren't plugged in when not in use.
• Hanging clothes on a drying line, rather than using an energy greedy dryer.
Give your children room to indulge themselves in their new role. Use a cereal box to cut out a badge shape and let them decorate it with crayons and glitter. Create a reward system that can be documented on a reusable dry-erase or magnetic chart. Each task your little Eco Police complete is another gold star toward achieving a visit to a nature center or indulging in organic ice cream.
Green living does not have to be another burden added to your to-do list. Sustainability is a learning opportunity that can enrich your family's lifestyle. A green lifestyle is one of the most sincere and fruitful life lessons we can teach our children.
Elena Michel is a Charlotte-based sustainability consultant and designer, and the creator of Second Eden Studio, www.SecondEdenStudio.com.