Talk a Walk Under the Sea at Sea Life Charlotte-Concord Aquarium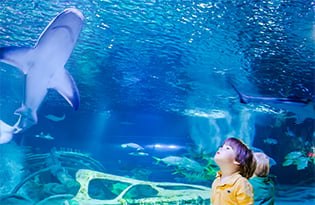 Though warm beaches may be miles away, you and your family can take a walk under the sea without masks and fins at the Sea Life Charlotte-Concord Aquarium. The 36,000 square-foot aquarium, located in Concord at Concord Mills, introduces 5,000 marine creatures to visitors.
The centerpiece of the aquarium is the 180-degree ocean tunnel that allows visitors to see sharks, rays and other fish swim right over their heads. Another highly anticipated attraction is the Giant Pacific octopus, the largest octopus species in the world.
In addition to creatures from oceans around the world, Sea Life Charlotte-Concord will house species native to North Carolina's Catawba River and the nearby Atlantic Coast.
The aquarium is designed with learning in mind, and to provide a strong interactive and educational experience for visitors to learn more about life in the ocean and how they can help to protect marine life, says Chris Andrews, senior curator for Sea Life U.S.
Other unique interactive opportunities, include viewing windows that offer a glimpse into the ocean itself, a touchpool experience, feeding demonstrations and a behind-the-scenes tour to show guests how it all works, plus educational talks and a presentation video theatre.
Regular admission tickets cost $21 for adults and $17 for kids ages 12 and under. Kids ages 2 and under are free. Annual Passes offering unlimited entry to the aquarium for 12 months are also available.
For more information, visit visitsealife.com/charlotte-concord.