Taking a Year Off Before College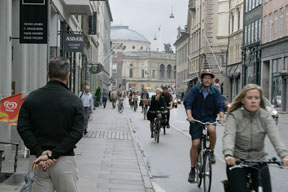 Local experts say delaying enrollment can help some students become more focused and ready for the rigors of academic life.
As the mid-year mark draws closer for Charlotte area high school seniors, thousands are making college visits and beginning to fill out applications. But many — to their parents' chagrin — are dragging their heels.
Some are feeling burned out and can't imagine four more years of the same. Others don't see the point, because they have no idea what they want to study and, ultimately, what they want to do with their lives.
The good news is that going straight from high school to college isn't necessarily the norm these days. More and more students are taking a year off to work, take classes at a local community college and explore career options, travel or do community service work.
Given the cost of college tuition and the statistics surrounding freshman-year failure, experts say a little time to mature and discover some interests isn't such a bad idea.
Lee Bierer, an independent college counselor and owner of College Admissions Strategies in Charlotte, says the topic of delaying college is being talked about. "I've had these conversations with all levels of students ? those who might be interested in attending some of the most highly selective schools and students who are floundering and have not taken high school seriously," notes Bierer, who is the Charlotte Observer's "Countdown To College" weekly columnist.
Rudy Jackson, owner of Charlotte-based College Prep Professionals and a former assistant professor of education at Davidson College, advises parents that their desire to have their child go to college won't carry her or him through four years of undergraduate study. "At some point, the child has to have the higher interest (than the parent) in going to college," says Jackson.
But parents often are uneasy about easing up on the pressure and letting their child off the hook for a year. They fear their child will get lazy and remain working a minimum-wage job forever.
Brier admits students might fall off the college track and never get back on, but parents can take steps to help prevent it from happening. Remember, too, she says, that hanging out in front of the television gets old fast, and very few students who delay going to college remain degree-less. In fact, when spring and summer rolls around and their friends are making plans and aren't at home anymore, college becomes more enticing.
"Maybe they're saying this fall, 'I don't want to go to college,' but six to nine months in teens' lives is a long time," says Bierer, noting they may have changed their mind by April when their friends are deciding where to go. "I think students should apply regardless, because they don't have to end up going anywhere ? they're just giving themselves more options."
Making the Case for Community College
Yet for students who are not yet ready to handle the rigors of college, Jackson says taking a year or two to ease into college coursework might be the best bet. "You can get your child into college, but your child might not be ready to be successful," whether academically or socially, says Jackson. Parents should ask themselves how much money they are willing to risk.
With the average price at a four-year public university some $10,000 to $15,000 a year and the price at a private college running $25,000 o $50,000 a year, giving a teen time to relax, refocus and get ready to handle college academics makes sense. Here's more food for thought from the College Board:
• Three out of five students who enter a public, four-year college don't get a degree within five years.
• Nearly 30 percent of all students who enter college don't return for their sophomore year.
The National Association for College Admission Counseling reports that a local community college often is a good stepping-stone to a four-year college.
Both Bierer and Jackson tout community college as a great introduction, saying it is a way to dabble in what higher education is all about and begin to explore careers ? whether medicine, music or psychology ? without making a huge investment up front.
Although many students view community college as the lesser choice, "The community college route is wonderful, and it's very affordable," says Bierer. "The state colleges and universities really think CP (Central Piedmont Community College) does a wonderful job, and it's really highly regarded."
"From a financial standpoint, community college is a good way to go," says Jackson. "It's the less risky investment. You're not investing as much money for a student to take a year or two just to explore majors or career tracks. At a community college, students get a taste of the academic rigor that's at the college level."
Gap Year Programs Gaining in Popularity
Taking time off between high school and college is common in Europe and Australia, where teens are encouraged to participate in meaningful experiences for personal exploration before they move to the next life stage of their life.
This gap year concept is catching on in the United States, and gappers are pursuing travel abroad, service work or educational programs. According to the Center for Interim Programs, a gap year consultancy in Princeton, NJ, costs vary widely and can run $10,000 to $20,000 for a year of fee-based programs and living costs.
More and more colleges are supporting the concept of a gap year, because it helps with rentention rates. Harvard has been encouraging students to delay enrollment for years. In fact, the Harvard admissions office Web site features an article, "Time Out or Burn Out for the Next Generation," written by the admissions staff. It reports that taking a year off makes kids more focused and ready for the rigors of academic life.
In addition, Princeton currently is exploring a bridge year program to allow newly admitted students to volunteer abroad before beginning their freshman year.
Experts recommend students apply to college during their senior year, get accepted and then request a one-year deferral. And, a gap year shouldn't be just "time off," but instead be crafted with clear goals in mind.
"Colleges aren't real supportive of an unstructured gap year," says Bierer. "But on the other hand, a gap year plan doesn't have to be an extremely expensive program in China or Africa. … It has to be a purposeful break. Taking classes or volunteering to find an interest or develop a passion is acceptable. It's not acceptable to sit home and play video games."
Finally, Bierer suggests parents talk with their teens to find out why they are resistant to applying to college, because the answer most likely will lead to the solution. "Understanding what is holding them back from being motivated about the (college application) process will provide great direction for what the next step should be."
She adds, "There are lots of options," emphasizing parents should avoid trying to put a square peg in a round hole and force a child to go right into a four-year college program. "I applaud parents who say, 'I'm not sure my child is ready, and we want to explore some other options."
Lee McCracken is an Associate Editor for Charlotte Parent magazine.