Table Convenience Foods for Quick, Healthy Morning Meals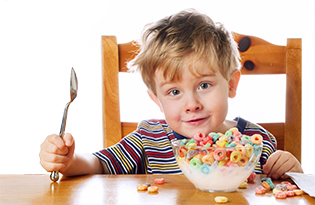 We've all been taught that breakfast is the most important meal of the day, but because most families' mornings are a rush to get ready for work and school, many of us grab something to eat as we head out the door. Unfortunately, packaged "convenience" foods are often not the best choices, and preparing a nutritious homemade breakfast in a world of to-go toaster pastries and sugary cereals can feel like yet another early morning challenge.
"It really doesn't have to be," says Yvette Garfield, founder of The Handstand Kids Cookbook Co. Even when they have to be eaten on the go, healthy breakfasts can be delicious and simple.
Make Educated Choices
Of course, kids' varying ages and tastes play big roles in breakfast planning as well, but there are ways to educate and empower them that may help ease the transition to new foods and menu plans if necessary.
Talk to younger kids about breakfast ideas and what sounds good to them. Taking them along to the grocery store or farmers market to see where vegetables, fruits and other foods come from is a great next step.
Find local Charlotte-area Farmers' Markets »
"We've become what's called a 'mac-n-cheese' society, where kids won't eat anything unless it's covered in cheese," says Garfield. "Kids need to know that a chicken doesn't really look like a nugget. When we learn at an early age, we ask the right questions, and we eventually make better choices as adults."
Gardening is another effective way for children to learn about food and seasonings for all meals.
"It's like magic for a child to plant a seed and see what it becomes," she says.
Read the Label
Reading food labels at an age-appropriate level can also be enlightening. Sara Erickson, a pediatric dietitian in Charlotte, agrees, particularly where prepackaged breakfast foods and breakfast ingredients are concerned. When you buy prepackaged items, know what to look for, she says.
"One example I use is granola bars, which are very popular with kids. There is a wide variety out there, and we shouldn't assume that they are all healthy," says Erickson. "When foods are highly processed, they are not whole foods anymore. So they can be high-calorie and have low nutritional value as well. Yogurt, cereals and oatmeal with fruit and granola can be good choices, provided that they're not loaded with sugar."
When reading labels in the grocery store, use the 5 and 20 percent rule. "When you're looking at the sodium and fat levels on a label, you should aim for just 5 percent of the daily value. When it comes to fiber, vitamins, iron and calcium, you want to see 20 percent or better. That's one simple way to tell whether a food is a healthy choice."
Take a Family Approach
Planning and preparing breakfast and other meals together whenever possible is a great way to help your family implement a healthier lifestyle.
Tweens and teens, whose tastes typically change from their younger days, are usually forthcoming with any breakfast requests (good, or not so good). Ask for their input. If you plan to make scrambled eggs, omelettes, fruit salad or a make-ahead panini sandwich, use it as an opportunity for them to customize their own entree, or present them with a few combinations and have them help (or entirely) prepare that item.
"You don't want to create a huge project for yourself when you're preparing a meal, morning or evening, but allowing a child to have a hand in planning the menu, shopping, preparation or even cooking ahead of time can remove what I call the 'icky factor' of certain foods and open up a new world," she says.
Tammy Holoman is a freelance writer from Winston-Salem.
For more information on The Handstand Kids, go to handstandkids.com. Receive a 10 percent discount on purchases by entering the code HSK20 at checkout.
Read More: 


View all Family Wellness articles