Supercharged Racing Dreams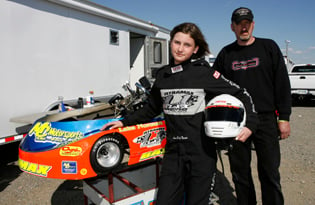 Long before they were old enough for driver's licenses, Annabeth Barnes and Brandon Warren of North Carolina, were racing go-carts at speeds up to 70 miles per hour. They, along with Josh Hobson of Michigan, are the stars of the award-winning documentary "Racing Dreams" that premieres on PBS' POV series Feb. 23.
The film chronicles a year in the life of the three tweens as they compete in the WKA National Pavement Series – a yearlong national championship of five races around the country – and as they step from childhood into adolescence.
We caught up with Barnes, 16, at home in Hiddenite, and asked her about what it's like to be in the film and pursue her racing dreams.
CP: How does racing affect your school and social life?
Barnes: I definitely miss a lot of school due to my racing. Now that I race stock cars most of the tracks are closer so that helps. My teachers have been amazing and have worked so well with me. I am actually on track to graduate early and have my certified nurse aide credentials by the time I graduate. School and education are very important to me. I am busy, so it makes it hard to have much of a social life. I do have a few close friends that I know stand behind me 100 percent; and I have a wonderful boyfriend of two-and-a-half years that I met at the racetrack who is just as in love with the sport as I am. He works on cars and I drive them, which has been great. I hang out and have fun with my friends as much as I can, but my favorite thing is just to be at home. I travel so much that just getting to be at home and watch movies on the couch has become some of my favorite things.
CP: Do you enjoy traveling to different tracks and cities?
Barnes: I love traveling. It's a major part of the sport. Growing up in racing I was in a different state every weekend, so that became what was normal. There is nothing that I don't love about traveling or being on the track. I believe that every time you're on the track is a chance to learn and grow as a driver, so that's very important to me. I also believe that you should live every moment as if it's your last, so if there was something I didn't like about traveling or being on the track I would simply stop doing it. Yes, it is a lot of work, but nothing worth having is ever easy.
CP: Who's your favorite driver?
Barnes: Kyle Busch! I know what you're thinking, "but everyone hates him?" But I think that he is an amazing driver. Sure, he pushes people around and is the rebel of NASCAR … but that's kind of what I love about him. Every sport needs a rebel, a villain. He reminds me so much of Dale Sr. But what Dale was loved for, Kyle is hated for.
CP: I noticed there aren't many girl drivers in WKA series. Has being a girl presented it's own challenges in racing? And how have you overcome them?
Barnes: Yes, being a girl has been a challenge for me. People treat me differently from the guys and actually pretty unfairly. I overcome the challenges because I have to. I would do anything for the sport that I love, and all in the hopes of capturing my dream. I never let anything stand in my way of something that I love and care about, and that stands true in all aspects of my life. My dad always tells me that if I were a boy I probably wouldn't have all of the attention that I have today. There are millions of boys out there trying to do the same thing as my family and me. They're all just as talented as me, if not better then me, but no one will ever know their name because there's nothing special or unique about them. There is, however, something special about a girl who races. That draws attention. I always have to keep that in mind, and that helps me overcome any challenge that I face.
CP: What wisdom can you share with parents of kids who want to race?
Barnes: I would tell them to just encourage their child to follow their dreams. Never tell them that they have a dream too big to chase. Nothing is impossible for someone who has the will and determination to try. I have been truly blessed with amazing parents who have always supported me. I would not be the person or driver I am today with their constant love and support.
CP: Where do you go from here? What are you plans?
Barnes: I'm hoping to race Late Models at Concord Speedway, along with a number of other tracks this season. We are still lacking a sponsor though, so that makes everything more complicated. In a perfect world we would get a sponsor and run this season, and hopefully move on to a Super Late Model in the near future. From there we need to get picked up by a team that hopefully would take us to Sprint Cup. But, of course, that's all in a perfect world.