Student Art Billboards Showcase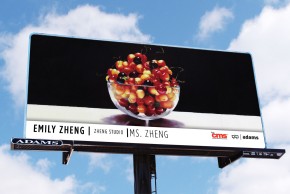 Through a collaboration with Adams Outdoor Advertising and Scholastic Art and Writing Awards Mid Carolina Affiliate, artwork created by local high school students is being showcased on billboards throughout the Charlotte area.
Modeled after the Art Pop!, a select bunch of art and writing that was entered into the Scholastic Art and Writing Awards is being featured on billboards. Featured art is selected for best visibility on billboards, according the Cheryl Maney, pre K-12 visual arts and dance curriculum specialist with Charlotte Mecklenburg Schools.
In its second year, the billboard idea was sparked after Maney saw the Art Pop! billboards. Adams Outdoor Advertising agreed it was a great way to showcase student art and a partnership was formed. This year, 17 billboards were covered in artwork created by area high school students who entered the Scholastic Art and Writing Awards, including students from CMS, other area public schools, as well as private schools. Five remain up through the month of June at the locations below:
– 5201 E. Independence Blvd near Farmingdale Road ? art by Abigail Scheper, Providence High School
– 1791 Brookshire Blvd near I-77 interchange ?? art by Cornelia Rubenson, Northwest School of the Arts
– US 74 150 ft E/O Hazeline NS Gastonia ? art by Kendall Carter, Gaston Day School
– SR 51 (Main Street) 500 feet E/O Downs Creek SS Pineville ? art Sabrina Colias, Myers Park High School
– US 74 150 feet E/O Sutherland Ave NS, Monroe ? Emily Zheng, Zeng Studio
If you have an artist in your family, make a point to do a driving tour and check out these great art works by local students to give your artist a bit of inspiration.