Strawberry Grilled Cheese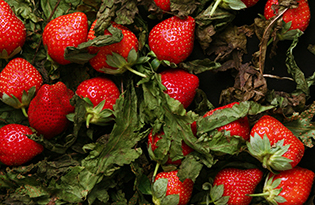 1 tsp honey
1 t tsp balsamic vinegar
1/2 cup diced fresh strawberries
4 slices of sourdough bread, buttered on one side
2 slices sharp cheddar cheese
3 T. strawberry preserves
1 tsp powdered sugar, for garnish
Mix together the honey and vinegar in a small bowl and stir in the strawberries; set aside for the berries to macerate while you make the sandwiches.
Place 1 slice of bread (butter side down) on a cutting board; top each with 1 T. strawberry preserves and slice of cheese. Place the remaining slice of bread on top (butter side up).
Grill the sandwiches over low heat until golden on both side. To serve, transfer sandwiches to a plate, spoon macerated berries on top and sprinkle on a dusting of powdered sugar if desired.