Strange Pattern in the Resignations of Incoming CMS Superintendent, Clayton Wilcox
But most people seem to really like him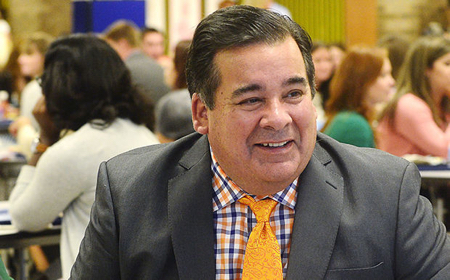 I'm going to level with you; I don't yet know what to make of Charlotte's incoming superintendent, Clayton Wilcox.
Wilcox is from Iowa, earned a doctorate degree in education from Nova Southeastern University, and recently received the International Society for Technology in Education's Outstanding Leader Award. Charlotte-Mecklenburg Schools will be the fourth district he's led as superintendent, as well as the largest and most diverse.
He's often touted as an innovative and hard-working leader who's good at building partnerships with the business community. He is, of course, not without his naysayers, but that's to be expected of anyone in the public eye, so I don't hold that against him.
What I do find slightly troubling, though, is an odd pattern in his departures from previous school districts.
The first superintendency Wilcox held was from 1999 to 2004, leading schools in East Baton Rouge Parish, Louisiana. (Curiously, he was serving as the Executive Director of Personnel Services for the St. Johns County school district in Florida from 1999 – 2004, as well. I'm not sure how you do both.)
The school district in East Baton Rouge Parish was small and struggling. It served about 54,000 students during Wilcox's time there, and wrestled with white flight and declining enrollment numbers both before and after Wilcox's superintendency. In fact, the district is best known for carrying out the longest litigated desegregation court battle of any school district in the country—the case began in 1956 and concluded with a signed settlement agreement in 2003.
From 2004 to 2008, Wilcox led Pinellas County schools in Florida. Pinellas County is a much larger district than East Baton Rouge, serving about 107,000 students during Wilcox's last year with the district.
He left Pinellas County for an executive position at Scholastic as the Vice President for K-12 Education and Corporate Relations.
When Wilcox announced his resignation in Pinellas County, many were surprised. He still had three years left on his contract and had spoken publicly about his intentions to remain in the community until his children graduated high school. (They were in middle school when he resigned his post in Pinellas.)
However, according to the Tampa Bay Times, he had recently had a "public feud" with a school board attorney "that required mediation," so it couldn't have come as too much of a surprise.
Even still, the newspaper also states, "His departure comes at a critical crossroads. The district is facing its most serious budget crisis in years and is in the middle of a major transformation to a system of 'close-to-home' schools."
Additionally, the community was gearing up for an election that was likely to change the political composition of the school board, leading to speculation that Wilcox purposely resigned in advance of that change.
In response to criticism and questions regarding his sudden departure, Wilcox said, "I just felt an incredible match. Their passion is my passion."
He added, "This is absolutely more about me going and being able to chase my passion on a larger scale than it is leaving something. I know people will find that hard (to believe)."
Fair enough.
But after 3 years as a Scholastic executive, Wilcox accepted another superintendent's seat in Washington County, Maryland, the very small school district of roughly 22,000 students and 2,500 employees where he currently serves. (CMS has almost 7 times that many students.)
Based on the reactions and news coming out of Washington County regarding Wilcox's resignation, the circumstances surrounding his departure are eerily similar to when he left from Pinellas County—and not just the shock and surprise.
So get this.
Wilcox's resignation comes on the heels of an election that shifted the political composition of the school board. Shortly before that, he narrowly won a contract extension by a 4-3 vote; two of those four are no longer on the board. Amid speculation that this was the reason behind his move, Wilcox said, "I didn't go looking for it. I know people find that hard to believe."
Sound familiar?
And if that's not weird enough, in his letter to the Charlotte community, Wilcox wrote, "your core beliefs are my core beliefs," which is almost verbatim what he said about his move from Pinellas to Scholastic.
As it turns out, both districts – Pinellas and Washington – were troubled in the wake of Wilcox's sudden resignation with substantial time left on his contract because each would have to undertake filling his vacancy amid a budget crisis.
Granted, one of those budget crises came during 2008 when pretty much everyone was dealing with a budget crisis, and I also understand that there's probably a whole lot more context and nuance to his story that I don't know.
And for the most part, people tend to speak very highly of him.
"Congratulations to Charlotte-Mecklenburg. If (its) board wants a creative, innovative superintendent, then they got one," Justin Hartings, former school board member in Washington County, told Hagerstown local news outlet Herald-Mail Media.
Then there's Steve Melgard, a 22-year educator and coach in the St. Johns County district in Florida, who remembers Wilcox as "a hard worker, very personable and smart."
Vice chair of Charlotte's school board, Elyse Dashew, recently remarked that Wilcox "has a real warmth and genuineness to him."
In Washington County, Wilcox presided over successful technology initiatives for students and for the district, making software improvements and increasing the number of iPads per student.
Also in Hagerstown, Wilcox was successful in implementing early college and STEM schools, two types of programs that were expanded by the Charlotte-Mecklenburg school board's most recent magnet plan.
He has experience implementing magnet and choice programs, as well as assignment plans rooted in neighborhood schools, and he's no stranger to facing controversy head on.
So I can see why they chose him, but I also see in his track record that, in his last two districts, he resigned by surprise with time left on his contract and a trail of ousted political supporters, leaving the district's coffers empty and using the exact same script.
All of this to say, I reserve the right to be cautious and skeptical, but in the end, I think he has some solid experience to draw upon in leading this district, and I'm rooting for his success. After all, my child depends on it.