Straight-Talk About Tobacco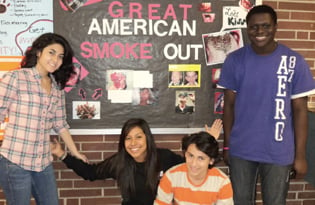 Briana Anderson, a senior at Mallard Creek High School, says she enjoys educating her peers on the dangers of tobacco, because she has seen first hand what the consequences of using tobacco can be. When Briana was 11, her uncle moved in with her family, because he had cancer, and her mother was the only one willing to help him.
Briana went to all of his doctor's visits and even witnessed his seizures and the paramedics showing up at her house to care for him. She couldn't believe how quickly he went from looking healthy to being "skin and bones," she says. Once the cancer spread throughout his body, he couldn't event talk. Nine months later, she attended his funeral.
If that wasn't hard enough, she went through it all over again one year later, when her aunt got cancer due to smoking. Her mother and siblings moved in with her aunt to help take care of her.
Through her life experiences, Briana has seen how harmful tobacco use is. "I feel I have the responsibility to speak up," she says, explaining why she got involved with TRU, Tobacco Reality Unfiltered.
Choosing Health
Many teens in Mecklenburg County are involved in TRU — North Carolina's teen tobacco-prevention movement, which is peer led and advocacy driven. And they're all involved for different reasons. Some have a personal tie, while others are looking out for their futures. But they all agree living a healthy life means living tobacco free.
Erica Bermejo, a senior at South Mecklenburg High, says, "I choose to be tobacco free because of the simple fact that I love and respect myself."
Mecklenburg County's TRU Youth Advisory Board is a group of 20 high school students who are leaders in creating change. They played a key role in the implementation of House Bill 2 (the smoke-free air law), and they helped mail educational packets out to 4,000-plus restaurants in Mecklenburg County about the new law.
These kids have passed out flyers about the dangers of secondhand smoke in 30-degree weather outside local malls. And the TRU Advisory Board has attended Charlotte Checkers games and set up educational booths that display diseased lungs and the chemicals found in tobacco.
Addison Baker, a senior at Vance, says, "When I am able to help prevent someone who was tempted to smoke from using tobacco products, I feel I have made the biggest contribution to society." These teens go above and beyond to get involved in the community, because they want to help create the first tobacco free generation.
Influencing Friends
Getting young people involved to positively influence their friends has helped lower teen tobacco use rates in Mecklenburg County. And they don't want to stop with restaurants and bars; these youth want to see all public spaces go smoke-free.
"I want every teen to know tobacco use affects everyone — not just the people who use it. Secondhand smoke causes cancer, so it's definitely not OK to let your friends smoke around you," says Jasmine Otu, a senior at Phillip O'Berry.
Tracy Fuentes is a senior at Vance. Her father smoked for 40 years, but quit five years ago. She says she couldn't be more proud of him for giving up the deadly, addictive habit.
"I used to get dizzy all the time from smelling smoke, and the headaches it gave me were the worst," says Tracy. "Tobacco may seem like a great thing, but in reality, it's just a slow suicide that one commits every time they smoke a cigarette." She and her peers at Vance have held on-campus promotional events to encourage teens to quit using tobacco.
Erica McWirther, who has picked up cigarette butts at Freedom Park, says, "Community parks are for the public and a place for family and friends. Nobody should have to worry about secondhand smoke."
Sarah Moore is the Teen Tobacco Prevention Coordinator at Mecklenburg County Health Department. Contact her at 704-336-4680 or by e-mailing Sarah.B.Moore@carolinas.org.
What They're Saying
"This is not a game, it's not cool — people are really dying."
Briana Anderson, Mallard Creek High School
"Most people I know smoke Black and Milds. … A cigar can contain as much nicotine as an entire pack of cigarettes."
Erica McWirther, Olympic High School
"Cigarettes are filled with more than 4,000 chemicals. Ingredients like arsenic, which is found in rat poison, is also found in cigarettes. I would never put those chemicals in my body."
Kia Spell, Vance High School
"About 1,200 people die every day from tobacco-related illnesses in the United States —33 of them in North Carolina. I definitely don't want to be a statistic."
Erica Bermejo, South Mecklenburg High School
"The cool people don't smoke."
Addison Baker, Vance High School
"I choose to be tobacco free because my health is important to me. … Cigarettes give off secondhand smoke, which causes cancer, asthma and sudden infant death syndrome. I care about my friends and family, and I love them way too much to put them at risk."
Jasmine Otu, Phillip O'Berry High School