STEM Camps Are in Session Across North Carolina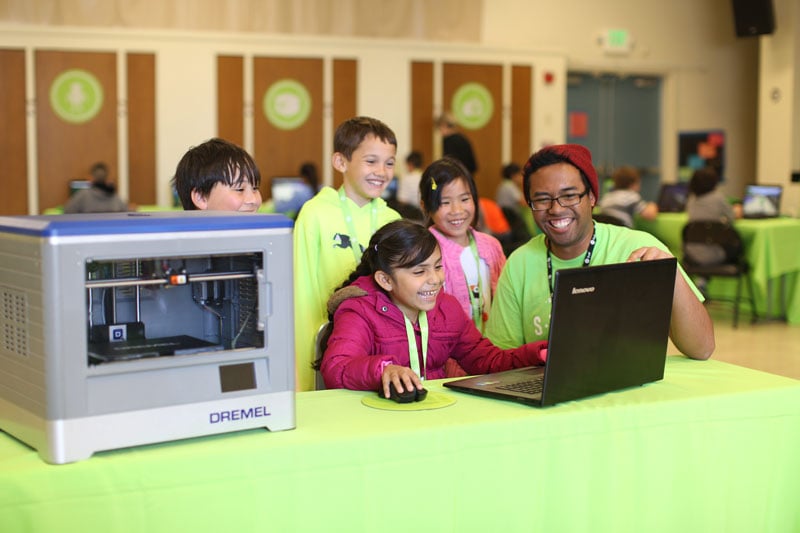 In a state where science, technology, engineering and math careers economically fuel cities and regions, STEM camps are educating the next generation of thinkers and innovators. If you have a STEM kid, here are some North Carolina camps offering curriculum for each letter in STEM.
S is for Science
From technology to biology, science is an integral part of our daily lives. Many camps use nature, animals and traditional settings to encourage discovery, but nonprofit Project Scientist in Charlotte focuses firmly on providing STEM education for girls.
"Our mission is to educate girls who have a passion, talent or aptitude for science, technology, engineering or math," says Senior Program Director Alyssa Sharpe.
Based on research showing that women make up 55 percent of the nation's work force but only 25 percent of the STEM work force, Project Scientist offers an educational camp experience that encourages girls to strive for STEM careers and develop the confidence they need to continue to improve.
"A lot of girls assume that they're born good at math or bad at math," Sharpe says. "We focus on a growth mindset. Just like you're not born a good soccer player, you practice and that makes you better; you need to practice these skills, too."
STEM-accredited teachers lead the camps and introduce campers to women who excel in a wide variety of STEM careers.
"Career interest and career knowledge are really important, so we expose them to a wide breadth," Sharpe says.
Learn more about Project Scientist at projectscientist.org.
---
T is for Technology
Susan Wells is nothing short of a technology education icon. She has been at the cutting edge of technology education as a teacher, principal, administrator and technology coordinator for 30 years. In her experience, she saw clearly how difficult it was to give technology education the time it deserved in a standard school day.
With this knowledge in mind, she founded Camp TechTerra. Based in the Triangle, TechTerra runs summer day camps in partnership with local schools throughout Durham, Raleigh and Chapel Hill.
Wells says the camp sells out out every year. Students learn coding and computational thinking within a hands-on environment that honors safety, choice, exploration and fun. She says that although she knows every child will not grow up to be a coder, she wants to give each of her students an opportunity to learn.
"Our youngest learners are very open and brave," she says. "Our learning is scaffolded. We start with code where you physically code, you walk the code, then we move into visual coding. We want kids to be excited and open to new tools and about trying new things."
Learn more about Camp TechTerra at techterraeducation.com.
UNC Charlotte offers robotics and Minecraft camps for children in grades 4-12. Camp projects lead campers to use higher-level thinking, problem-solving and in-demand skill sets as they build a robot or code their own mini-game in Minecraft. Rising first- through sixth-graders also have the option of a half-day LEGO engineering camp provided by Playwell TEKNOLOGIES.
Learn more about tech camps at UNC Charlotte at summercamps.uncc.edu.
---
E is for Engineering
Since North Carolina State University in Raleigh is home to one of the consistently top-ranked engineering degree programs in the nation, we don't need to look far to find engineering camp options. The College of Engineering offers the Young Engineers camp program for rising kindergartners through rising seniors in high school.
"Engineering is the least known part of STEM," says Director Susan D'Amico, which is precisely why it's vital to introduce engineering to kids in a way that is accessible, she says. "Being aware of the difference that engineering makes in the world, from a kids perspective, makes learning it relevant. It makes the discovery of math and science purposeful."
Young Engineers instructors teach campers that helping people and solving problems to make the world a better place is integral to being an engineer, and they show campers how engineers often work together to contribute to a greater good.
Despite the program's academic rigor, the camp is structured to make engineering fun.
"The number one goal is to have fun. If the kids aren't having fun, it's not going to work," D'Amico says.
Young Engineers residential programs are offered for rising 11th and 12th graders, but day camps are provided throughout the state in Charlotte, Hickory, Havelock, Wilson and Rocky Mount. Learn more at go.ncsu.edu/esp.
---
M is for Math
The trick to getting kids interested in math is to understand how it is applied to the things they already love. IDTech, which offers an array of computer programming camps at university campuses throughout North Carolina, as well a residential camp option for kids ages 7-17, teaches campers that math and computer science go hand in hand.
"Our goal is to inspire the next generation of innovators through a unique learning environment, and to expose them to things they might not be getting in their normal school environment, like computer science, robotics and electronics," says Coray Cunningham, public relations manager for IDTech.
When students begin learning how to program they must use vital mathematics concepts such as order of operations, logic and problem solving.
"As they're learning to program, they are strengthening the logic skills they already have or are building a basis for more advanced math classes," Cunningham says. "We blend fun into the summer camp with very tangible tech skills. Things get zany and fun but all students end the week with a project they can take home and be proud of." Learn more at idtech.com.
Duke TIP's Summer Studies program offers a three-week math-specific residential program for qualifying high-achieving students in grades 7-10. Technology and science courses are also offered. These programs take place at 13 college campuses across the country. In North Carolina they're available at Appalachian State University in Boone, Davidson College in Davidson, Duke University in Durham and Wake Forest University in Winston-Salem. Learn more at tip.duke.edu.
Though you may not be pondering your child's career path just yet, the U.S. Department of Labor reports that out of the 20 fastest growing occupations, 15 of them require significant mathematics or science education. STEM camps introduce these concepts in a fun, memorable and enriching way to help prepare your child for whatever his or her future may hold.
Mandy Howard is a freelance writer and mother of three in Raleigh.