Stay Informed With PowerSchool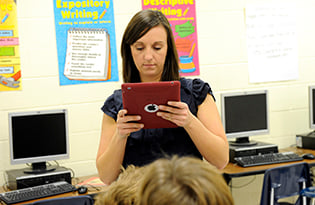 Beginning in mid-August, parents of students across North Carolina can access their child's school records online through a new statewide system called PowerSchool. PowerSchool replaces Parent Assist, the student-information system previously used throughout the CMS and other neighboring school systems.
The PowerSchool portal provides real-time updates for parents, as well as teachers, students and school administrators. Parents can access their child's grades, attendance records, transcripts and schedules on the web-based student-information system from any computer or digital device that has Internet access. PowerSchool also has apps available for iPad, iPhone and most Android devices.
Parents can sign up for automatic email notifications to get details about their student's school performance, including grades and teacher comments that parents can review and respond to, as well as school bulletins for some schools in CMS. (To get a username and password, parents should contact their child's school. Parent Assistant login information will not transfer to the PowerSchool system).
"It gives parents the ability to take more control of access to their student's information," says Kae Roberts, CMS assistant director for student applications and web development. "With a couple clicks they can request emails be sent to them daily, weekly, monthly or never." The email notifications can include grades, school bulletins, teacher comments and other information relevant to a student. The new system assigns each student a unique identification number that remains the same through a student's school career. If a student moves from one school district to another, their information can easily be transferred.
"[PowerSchool] allows for a rapid incorporation of all the factors of a student's education background as a new school attempts to place a student in the appropriate classroom and programs," says Roberts. "It will even transfer immunization records."
Learn more about PowerSchool.