Spring Green Scene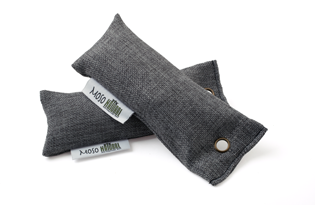 Need a cure for a smelly situation? The new Mini Moso air purifying bags absorb and filter out odors, pollutants, allergens and bacteria and dehumidify to prevent mildew, mold and moisture. Slip them into laundry bags, smelly shoes or luggage and breath easy. Made from 100 percent bamboo charcoal, fragrance free and nontoxic, these little powerhouses remove impurities for up to two years. $9.95 for a two-pack at mosonatural.com or The Container Store.
For the eco-minded mom who doesn't have time to make her own dough, there's Eco-Kids Eco Dough – nontoxic, washable and safe solution. Eco-Kids Eco Dough is made from organic fruit, plant and vegetable extracts, so if some ends up in his mouth, it's OK. For children 2 years and older. A stack of five colors for $23.99 at ecokidsusa.com.
Parent invented and celebrity approved Squeez'Ems reusable food pouches make taking pureed baby food or smoothies on the go a breeze. No more buying and tossing pouches, these are reusable, which helps reduce waste, plus you choose what goes in the pouch and what your baby or toddler eats on the go. BP, PVC and Phthalate-free; and freezer, microwave and top-rack dishwasher safe. Two-pack $7.99 at booginhead.com.