Spend a Day at Tiger World
See tigers, lions, leopards and more at the endangered wildlife preserve.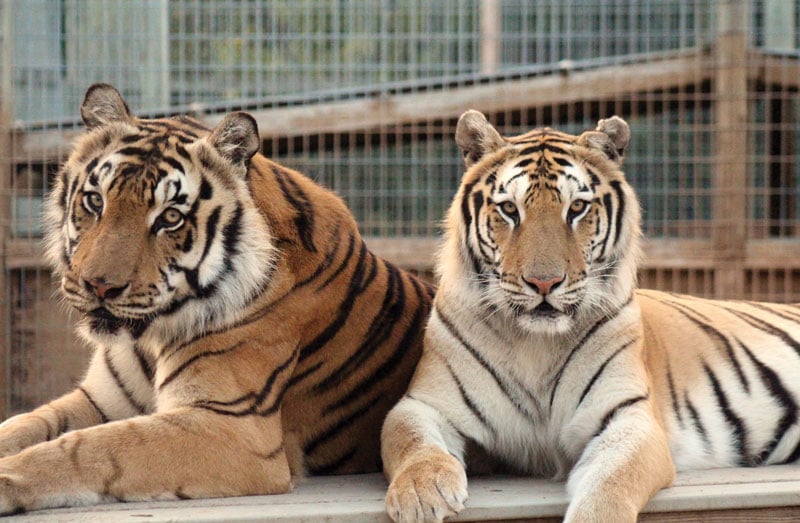 There aren't too many places in North Carolina where deep, guttural roars greet you upon arrival, but that's exactly what you should expect at Tiger World. Tucked away off of a windy farm road about 5 miles from Interstate 85 in Rockwell, North Carolina, the 36-acre endangered wildlife preserve is very unassuming. There is no large entrance gate or flags waving as you drive in, but that's just the point at this refuge for some of nature's fiercest and most exotic animals.
Tiger World is home to lions, various species of tigers, bears, cougars, wolves, monkeys, kangaroos, bobcats, lemurs, otters and even a liger — a cross between a male lion and a female tiger. A rare Timbavati White Lion, Michael, from South Africa also lives at Tiger World, safe from poachers who endanger the species.
Four out of five animals at Tiger World are rescues, says Erin Carey, director of wildlife. Rescued from captive situations, such as the homes of humans who thought a tiger might make a good pet, or monkeys who were in movies, many are also on endangered wildlife lists. Three of the nine resident subspecies of tigers — Bali, Caspian and Javan tigers — and the two Syrian brown bears are extinct in the wild. Tiger World provides a reprieve for these animals, offering natural habitats and rehabilitation. It also exists to educate visitors about endangered wildlife.
The preserve, which opened under new ownership eight years ago, is a nonprofit organization. The new owners spent a year creating better, more acceptable natural habitats before re-opening Tiger World. It is now a licensed U.S. Department of Agriculture-approved facility and member of the Zoological Association of America and Species 360.
---
Plan Your Visit
Visitors are welcome to take a self-guided tour of Tiger World, which is open to the public Sunday-Tuesday and Thursday-Saturday (closed Wednesday). Meander along rock and grass pathways through areas named Lost Kingdom of the Tiger, Timbavati Falls and the Big Cat Blast to observe the animals as they play, sleep, eat or swim at a much closer distance than possible at many zoos. Signs throughout the preserve serve up facts about the animals, but you can learn even more by taking an educational tour with an animal handler, which can be scheduled on weekdays (except for Wednesday) at 11 a.m. or 2 p.m. at no additional cost.
A guided tour offers the opportunity for visitors to ask questions and learn fun facts about conservation efforts and the animals' lifestyles, predispositions and natural instincts. For example, did you know a tiger cub grows 1-5 pounds a week, and that tigers prefer swimming to walking, as they have webbed feet? Or that a liger (yes, it's a real animal — not just the imaginative drawing of Napoleon in the movie "Napoleon Dynamite") is the result of irresponsible breeding, and that a monkey interprets a smile as an insult that could spark aggressive behavior?
"Keeper Talks" take place Saturdays and Sundays, every hour on the hour between 11 a.m. and 2 p.m., at different habitats throughout the preserve. Carey recommends spending about two hours walking around and observing the animals' behaviors.
Special events throughout the year include a Wild Easter Egg Hunt in the spring, Carnivore Feed Safari Tour on Thursday evenings May through September, and Boo at the Zoo in the fall.
Admission to Tiger World is $15 for adults, $12 for children ages 2-17 and seniors over age 62, and free for children under age 2. Group rates for 10 or more are also available. Proceeds from visitors go toward maintaining and expanding the facility.
Bring snacks or lunch as there are picnic areas but limited vending options. There is also a gift shop offering everything from cute cat items to educational books.
Call ahead to schedule a guided tour and to find out when Bengal tiger cubs' playtimes take place. Tiger World, 4400 Cook Road, Rockwell, North Carolina. 704-279-6363, tigerworld.us.