Spend a Day at the Sea Life Aquarium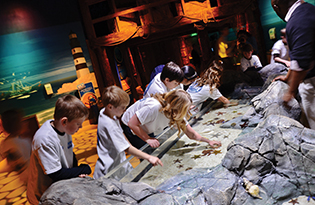 The recently opened Sea Life Aquarium hones in on educational fun for all ages with themed aquarium areas, talk and feed times, touch pools and conservation education, as well as more than 5,000 different species of sea creatures to see.
Like other aquariums, Sea Life's themed areas feature freshwater and saltwater fish and sea creatures, but what makes it different is how children can view the creatures. Through various portholes and an overhead tunnel, in addition to typical tanks, kids get low, and see the fish – gills, mouths and all — from all sides. It's a smart design that makes it easy for kids of all ages and heights to get a good view of all the underwater action.
Moving from room to room, you can view fish from the Catawba River, see an area dedicated to seahorses, then on to stingrays, moray eels and sharks at Stingray Bay, the Giant Pacific Octopus and tropical sea species, including Lion Fish, Angel Fish and Clown Fish in Coral Reef tunnel, and the tank filled with bouncing jellyfish. The well-lit tanks in dimly lit rooms give the whole place a magical feel.
The Giant Pacific Octopus is unique to Sea Life. Though I'd hoped to see her swimming around, she was instead glued to the glass tank wall napping, but it still was an interesting view of a species you don't typically see at an aquarium. The talk about the Giant Pacific Octopus was uncomplicated, but informative, a good thing to keep children's attention.
Stamp stations throughout the museum encourage children to learn about marine conservation. Eight interactive stations present facts about the benefits of healthy coral reefs, how to reduce overfishing, endangered species and more. Guests are given a book to collect stamps as they go through the aquarium that they can "cash" in for a souvenir pin on the way out. Interactive tablets by each tank also provide information about the fish and aquatic environments.
It takes about 45 minutes to 1.5 hours to go through the aquarium, depending on how much time you spend actually reading the sea creature facts and information in each section, or listening to talks. There is a play and vending area between after leaving the aquarium area and before entering the gift shop, which you must walk through to exit back into the mall. If you are interested in the talks, be sure to check online for talk and feed times before you go.
Sea Life is located at Concord Mills, 8111 Concord Mills Blvd., Concord; and open Monday through Saturday, 10 a.m. to 6 p.m., and Sunday, noon to 6 p.m.  Admission is $17-$21, free for ages 2 and younger. Season passes are also available. visitsealife.com/charlotte-concord.