Sneak Peek: UNC Charlotte's 50+ Fun, Practical, and Quirky 2020 Summer Camps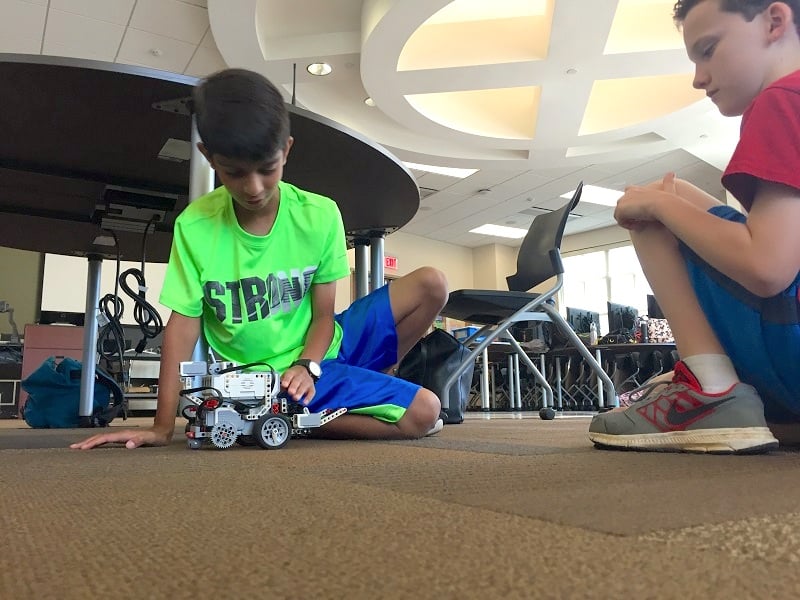 From Artificial Intelligence to Musical Theater and Creative Writing, here's a look at the fun, practical, and quirky camps offered this summer through UNC Charlotte's Camps on Campus.
Summer is long.
While playing with friends and cooling off at the pool are likely at the top of your child's to-do list, we know that, as parents, it's important to find engaging, educational, and worthwhile activities for your child during the summer months.
Finding fun, hands-on enrichment experiences that are also safe and educational can be tough, but UNC Charlotte's 15-years-and-counting of the ever-engaging Camps on Campus makes them a top choice for local parents—especially with the variety of programming they have.
"[My daughter] loved the Robotics and Chinese camps," said one parent of her child's experience at Camps on Campus. "It was a great way for her to explore different, diverse topics in a safe environment."
This year, there are more than 50 total camps to explore, with many featuring relevant and fun themes sure to excite your student—no matter their age. The camps are open to students rising into first through twelfth grades, broken up into three categories:
(click to jump)
Each camp focuses on character development, with counselors who encourage inclusion and teach the students how to forge solid friendships. The instructors lead large group activities in each camp in addition to age-appropriate break-out activities, so there's no time for your child to be bored.
A Look at UNC Charlotte's Most Intriguing Camps on Campus for Summer 2020
Hoping to find that perfect camp for your student? Here's a quick breakdown of each age group's camp options at UNC Charlotte for summer 2020.
Make sure to mark down your family's favorites; the popular ones fill up fast!
Cool School (Grades 1-4)
For the youngest campers, those rising into 1st through 4th grades, UNC Charlotte's Cool School offers a wide range of worthwhile camps.
Notable camps include City Builders, Musical Theater, and, for the extra-inquisitive child, MythBusters. (Can balloons really lift a whole house, like in the movie Up?)
Have a budding environmentalist in the family? Look into the Going Green/Recycled STEM camp—through lessons in reuse, students construct new art and learn creative ways to reduce their carbon footprints.
49er Minors (Grades 5-8)
Specifically created for students rising into grades 5 through 8, the 49er Minors camps are cross-curricular and integrate multiple academic subjects.
Popular camps include Debate and Public Speaking, Interior Design, and many more.
Creative Writing Workshop: Publish a Story gives budding storytellers the opportunity to write a story, hear valuable feedback in improving it, and publishing it into a keepsake anthology. A teacher from the UNC Charlotte Writing Project leads the camp.
Zombie Outbreak and Survival Camp might not be what you think it is. This buzzy camp will catch your tween's attention and ultimately focus on teamwork, goal-setting, and outdoor survival skills. It offers programming that combines biology, health, medicine, science fiction, and character development, making it an interdisciplinary and creative camp experience your student will be raving about well into the new school year.
Niner Academy (Grades 9-12)
With a career focus, the Niner Academy camp centers on rising grades 9 through 12, introducing campers to academic disciplines and careers that their high schools may not offer. Each camp in the Niner Academy aims to add substance to college applications and professional resumes.
Timely and relevant camp topics include AI for All, an interactive environment in which students receive an introduction to Python programming to create basic Artificial Intelligence (AI) systems, and software.
Video Gaming and YouTube Content Creation are other topics relevant to today's digital-first world.
Aspirational Sherlocks can consider the Chemistry of CSI camp, examining the science behind solving crime scene investigations as they are in popular television shows—through blood splatter, fingerprinting, handwriting analysis, and more.
Adulting 101 camp teaches students the non-academic essentials of being a self-reliant adult, including balancing a budget, changing a tire, and sewing a button.
Bonus! In addition to instructors, Niner Academy students will have two camp counselors to serve as college mentors.
UNC Charlotte's Camps on Campus are available at both the University and Center City locations. Online registration for camps will open to the public on January 28, 2020. Click here for Camps on Campus registration and pricing information. For all other details, visit summercamps.uncc.edu.