Sleepytime Honey Almond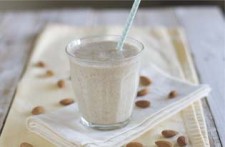 Almonds are not only full of protein, but they are also full of magnesium, which is a natural muscle relaxant. You get almonds from the almond milk and the almond butter in this smoothie, giving the kids a nice dose of that magnesium.
Ingredients
Makes 4 (8-ounce )servings
2 cups almond milk
1/4 cup almond butter
1/4 cup honey
1 cup ice cubes
Instructions
Pour the almond milk into a blender.
Add the almond butter and honey. top with the ice and blend until smooth.
Source: Best 100 Smoothies for Kids