Single Motherhood by Choice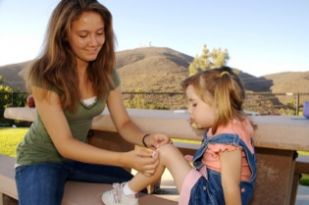 The picture of the "perfect family" – Mom, Dad and 2.5 kids – is changing. More and more single women are choosing to become mothers, whether due to an unplanned pregnancy (and deciding to go it alone), conception using donor insemination or adoption.
Mikki Morrissette, author of "Choosing Single Motherhood: The Thinking Woman's Guide" (Houghton Mifflin, 2008), says the trend began in the 1980s and 1990s, as more women entered their 30s with financial and emotional security and chose to rear a child without a mate. The TV character Murphy Brown caused a national stir in 1992 when she decided to become an unmarried mother and Vice President Dan Quayle publicly criticized the story line. Since then, the lifestyle option has been portrayed in many sitcoms and movies, and every year more and more Hollywood actresses glamorize it.
Morrissette has coined the term "Choice Mom" to describe herself and others – women who consciously and responsibly choose to become mothers on their own. A former magazine journalist/editor who lived in New York City, Morrissette first became a mom in 1999, when her daughter, Sophie, was born. Her son, Dylan, was born in 2004. She now lives with her kids in Minnesota.
Her book and weekly radio show on the VoiceAmerica network take a look at the many issues and questions surrounding raising a child without a father in the picture, including, "Is it fair to the child?" "How do I handle it alone?" and "How are the kids turning out?" Morrissette shares the insight of Choice Moms who have "been there" and guided their children from infancy to young adulthood.
One of the biggest hurdles Choice Moms face is answering the inevitable, "Where is my daddy?" question, according to Morrissette, adding it often comes up out of the blue time and time again. Whether they adopted or conceived by donor sperm, mothers should remember that their comfort level and openness in talking with their child is more important than the words they use, she explains.
"Shame, a sense of 'lack' or guilt, or a dismissive attitude will have more impact than the actual story," says Morrissette. She suggests moms keep their answers simple, and she offers these basic rules in Chapter 11 of her book:
1. Work through your own issues about why there is no daddy for your child. Children who are conflicted about their origins often have parents who are conflicted about it. As the psychotherapist Patricia Mendell said in an article on the American Fertility Association Web site (www.theafa.org), there is a growing consensus that "a child's understanding and adjustment is profoundly influenced by how the parent(s) feel about forming that family in the first place."
2. Start early. One strategy used by many Choice Moms is to tell the story out loud from babyhood, so that the words get comfortable before the child is old enough to comprehend them. Lay the groundwork early, so the term "dad" or "donor" is never considered a taboo word or dismissed as unimportant. The goal is to make the child feel secure and loved, to tell the story simply and honestly.
3. Shrugging off the "dad" concept is never a good strategy. Even if you are happy not having a dad in the home, don't expect your child to feel the same.
4. Emphasize the normality of being different. Every young child wants to be perceived as normal. Your child will notice earlier than you think that having a father is normal. Be sure he or she knows by then that there are many ways to create a family.
5. Remember that the birth story is your child's. … If your child is sensitive about the way he or she was created, don't push it in the hopes of making him or her embrace it. CP
Web Sites for Choice Moms
www.choicemoms.org – Mikki Morrissette's online community for mothers, offering interactive tools and a list of resources.
http://groups.yahoo.com/group/choicemoms/ – Mikki Morrissette's online discussion site for Choice Moms
www.singlemothers.org – Official site of the National Organization of Single Mothers, Inc., established in 1991 by Andrea Engber. For all single moms, whether by choice or chance.
www.singlemothersbychoice.com – Site for Single Mothers by Choice, founded in 1981 by psychotherapist Jane Mattes, for those who are thinking about choosing single motherhood and trying to adopt or conceive, as well as those who are Choice Moms.
Lee McCracken is an associate editor with Charlotte Parent magazine.