Sicilian Citrus Glazed Tuna Steaks with Braised Fennel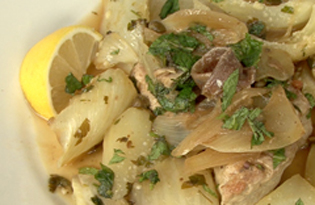 Tuna Ingredients:
1/8 cup extra-virgin olive oil
4 tuna steaks (4 ounces each)
1 medium yellow onion, thinly sliced
½ cup freshly squeezed orange juice (1-2 oranges)
1 tablespoon capers packed in water, drained and rinsed well
8 anchovy fillets in olive oil, drained and rinsed well
¼ teaspoon kosher salt
Freshly ground pepper, to taste
2 tablespoons freshly chopped mint
Fennel Ingredients:
2 tablespoons extra-virgin olive oil
2 pounds fennel, bulbs quartered, stalks reserved for another use
1 teaspoon fennel seeds, crushed in a mortar
1 cup freshly chopped Italian parsley
½ teaspoon kosher salt
½ teaspoon freshly ground black pepper
1 cup reduced-sodium vegetable stock
½ cup freshly squeezed orange juice
¼ cup grated Parmigiano Reggiano cheese
Preparation:
Heat olive oil in a large skillet over medium high heat. Add tuna steaks and cook 2-3 minutes per side until golden. Remove tuna from pan and place on a platter. Set aside.
Add onions, capers, and anchovies to pan. Stir, and break up the anchovies with a wooden spoon. Sauté, uncovered, on medium heat, until onions are translucent (5 -7 minutes). Add orange juice, stir well to combine, and cook, uncovered for 2-3 minutes.
Add tuna steaks back to the frying pan, cover and cook for 3-5 minutes per side until tuna is done.* Remove tuna from pan onto a serving platter.
In the meantime, make the fennel. Heat oil in a large skillet over medium heat.
Add the fennel bulbs and seeds and cook fennel for five minutes on each side, or until golden. Stir in the parsley, salt, pepper, stock, and orange juice. Increase heat to high and bring to a boil.
Reduce heat to low, cover, and simmer for 10-20 minutes, or until fennel is tender and most of the liquid has reduced. Transfer to a serving platter and sprinkle with parmigiano reggiano cheese.
 
When fish is finished cooking, pour sauce over tuna, and arrange onions around top and side of platter. Sprinkle fresh mint over the top of the dish. Serve warm with fennel on the side.
 
Find more recipes at HarrisTeeter.com