School Lottery Logistics
How to apply to the schools on your wish list.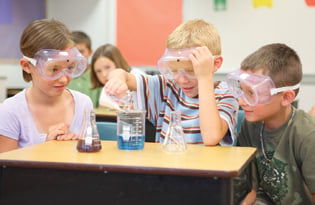 In this day and age, parents have more choices for their children's education than ever. In addition to private, public and charter school opportunities, the term "lottery" is a frequently comes up in school discussions, and its definition can often cause more than a little confusion.
How School Lotteries Work
In the Charlotte area, lottery procedures are often used for admission to charter and magnet schools. In a school lottery, admission is determined through a random number lottery system. Parents must fill out an application to the school by a particular deadline. The application is then put into the lottery pool and names are drawn for the school's open slots on a scheduled date. Different schools use a variety of methods to determine the results of the lottery, such as computerized programs or simply drawing the names from a box. A waitlist is also compiled at the time of the lottery. If a child doesn't receive admission to the school through the lottery, the parents can submit an application during the next lottery enrollment.
CMS Magnets
Charlotte-Mecklenburg Schools was recently recognized by the Council for Great City Schools as having "more top magnet schools than any other district in the nation." The school system currently offers 10 magnet programs in 38 schools. Magnet programs are theme-based and designed to offer a unique educational environment promoting students' abilities, interests and talents, according to Julie Wellons, magnet programs coordinator forCMS.
For example, parents who want to enroll their child in the Learning Immersion and Talent Development magnet program can look into the six different CMS schools offering the program. In order to apply for a magnet program, students must either be enrolled as a future CMS student or currently attend a CMS school. Magnet application is an online-only process. All enrolled students are sent a student identification number and a PIN that allows access to the CMS online magnet-lottery application.
Students must be enrolled by the deadline in mid-December to be eligible to participate in the first magnet lottery, which begins in early January and ends in early February. Students who enroll in CMS after the December deadline are eligible for the second magnet lottery conducted in the spring.
Charter School Lotteries
Local, state and federal tax dollars are theprimary funding sources for charter schools, according to the Department of Instruction with Public Schools of North Carolina. The schools have open enrollment with no discrimination, no religious associations and no tuition. The only requirement to get into a charter school is the availability at the school in the requested grade.
According to Linda Bratcher, head of school for Mt. Island Charter School in Mount Holly, parents should take the timeto investigate any charter school they are interested in. "Not every school's teaching philosophy and curriculum may fit your child," she says.
Charter schools typically begin holding information sessions and accepting applications for the following school year in the fall. For example, Mt. Island Charter School, currently servings grades K-8, and has an application period between Nov. 1 and Jan. 31, 2012, with the next school lottery scheduled for Feb. 6, 2012. Some schools have earlier or later application deadlines that are listed on their websites.
Magnet and Charter Schools
For more information about charter schools in North Carolina, visit www.dpi.state.nc.us/charterschools/schools.
For a list of CMS magnet programs, visit www.cms.k12.nc.us/magnets.
Renee Roberson is freelance writer from Huntersville and mother of two children who attend a charter school.