Salt-Dough Ornament Recipe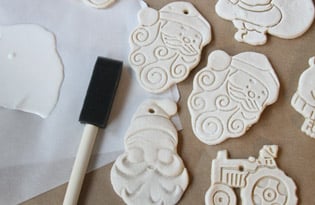 Jessica Robinson, blogger, editor, recipe developer and photographer of The Carolina Farmhouse Kitchen makes salt-dough ornaments look easy! Try this recipe out with the kids for the holidays and hang your special hand-made crafts on your tree. 
Things you'll need:
straws
sharp knife
spatula
baking sheets and parchment paper
shaped cookie cutters
acrylic paint
an assortment of brushes
small disposable plates
disposable cup with water
oil-based polyurethane
small sponge brushes
Kraft paper
rubber gloves
Recipe:
2 cups all-purpose flour
1 cup salt
1 cup water
Directions:
1. Mix the above ingredients in a bowl and roll out on a lightly floured surface to your desired thickness. You'll want to lightly flour the surface of the dough once rolled out, so your cookie cutters don't stick.

2. Cut out your desired shapes and lift them up with the spatula.

3. Place the cookie shape into your left hand and smooth out the edges with your right (opposite if you are left handed).

4. Slide gently onto a parchment lined cookie sheet. Put a hole in the top of the cookie with a disposable straw. Twist the straw around in a circular motion to make the hole a little bigger.


5. Bake at 170-200 degrees for about 12-15 hours. You'll need to bake them at this low temperature for a long period of time so they don't puff up or curl. Once they are done, let them cool fully.


6. Once ornaments are cooled, blow off any excess flour and paint the entire cookie with white acrylic paint as a base coat.


7. Set on Kraft paper to dry thoroughly. I like to work in an assembly line of sorts. I start with red, for example and by the time I'm done painting that color they are dry and I can move on to the next color. Once they are all done you can go back and touch up any spots of paint you are not happy with. Let them dry well.
8. You'll want to apply a thin layer of oil-based polyurethane to each side, one side at a time. Apply about 3-4 coats per side and let dry thoroughly in between coats. Set them on Kraft paper as they dry. They should last for many years to come.

Love this recipe? Jessica will be releasing her New England Farmgirl cookbook on March 1, 2015 where you can find even more recipes for the family.